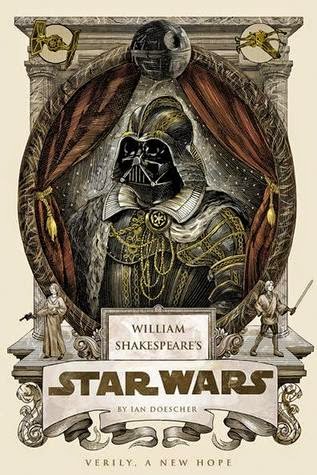 William Shakespeare's Star Wars: Verily, A New Hope (Shakespeare's Star Wars #1) by Ian Doescher


Release Date: July 2, 2013
Publisher: Quirk Books
172 Pages
Received: Finished copy from publisher
Format: Hardcover


Rating:
4 Nuts
Description: Inspired by one of the greatest creative minds in the English language—and William Shakespeare—here is an officially licensed retelling of George Lucas's epic Star Wars in the style of the immortal Bard of Avon. The saga of a wise (Jedi) knight and an evil (Sith) lord, of a beautiful princess held captive and a young hero coming of age, Star Wars abounds with all the valor and villainy of Shakespeare's greatest plays. 'Tis a tale told by fretful droids, full of faithful Wookiees and fearsome Stormtroopers, signifying…pretty much everything.
Reimagined in glorious iambic pentameter—and complete with twenty gorgeous Elizabethan illustrations—William Shakespeare's Star Wars will astound and edify Rebels and Imperials alike. Zounds! This is the book you're looking for.
Review:
This book is at its best when read out loud. Think of the way a Shakespearean play sounds when read out loud or performed, reading it to yourself can never compare. Perhaps I'm biased, I graduated with a degree in English literature and had to taken entire courses on Shakespeare. If you hated reading Shakespeare in high school then go watch it performed by professionals, it's an entirely different animal. The author of this book reproduces that well.
This book has so many things going for it. This really is the Star Wars story, with a few embellishments. One of these is R2-D2. While in the movies you can see his sass (usually through C3PO's indignant replies), here Doescher give him these wonderful asides that really give the unit a great personality. He was easily my favorite Shakespearean interpretation of these characters.
I can't help but comment on the illustrations that accompany the play. They are absolutely gorgeous, and even they are given a Shakespearean twist. The characters' clothes are altered, only just enough to make them Shakespearean-like without making them unrecognizable. There are also a few quotes direct from Shakespeare himself that are slipped into appropriate parts of the text, an easter egg of sorts for those familiar with the bard.
I do have a few bones to pick with the book, but they are minor. One is that the chorus is used much more often to describe action than it should in any sort of Shakespearean-like play. Less is more in this case. There are also a few out-of-character moments for some of the characters, but they are not that big of a deal, though they might bother Star Wars superfans.
This book was highly entertaining from both the Star Wars and Shakespearean angles. I way have rolled my eyes when I first heard of this series' existence, but I'm a true believer now! May the verse be with you!
What did you think of Verily, a New Hope? Let's chat in the comments!
Enter to win some of Quirk Books' other titles here.
Keep Reading!
Related Posts