Last night I reached 100 followers on Bloglovin'! All of my followers are wonderful but 100 is a great milestone. As promised, this is a bloglovin' follower appreciation giveaway, meaning you do need to follow me on Bloglovin to enter. If you don't already follow me that way then there's a button to do so at the top of the page in the sidebar! Thank you to everyone who follows me, one way or another. I love you all!
So, here's what you can win:
The theme is book to movie (or TV) adaptations!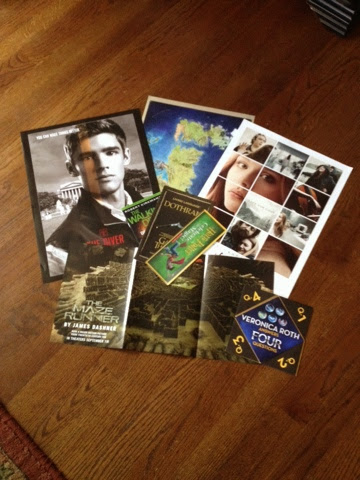 -A The Giver movie poster.
-A If I Stay movie poster.
-A Game of Thrones map poster
-A Maze Runner fold out poster.
-A Dothraki language guide (Game of Thrones).
-A Walking Dead sampler.
-A Harry Potter bookmark.
-A Divergent answer game.
-A few mystery pieces of swag.
The Rules:
-US only. Don't worry international followers, I've got a giveaway coming your way soon!
-Don't cheat! I caught at least 4 cheaters in the last giveaway and every single one got disqualified. I do not tolerate that sort of behavior here.
-You must follow via bloglovin, I will check! This giveaway is to celebrate 100 bloglovin followers.
-There will be one winner who will be notified by email and announced via the rafflecopter form.
-You must be able to give me your mailing address, meaning you are of age or have permission.
Related Posts