One of my resolutions for 2016 was that I want to bring back some of my favorite features from a while back. The first one I'm going to tackle is my baby, my numero uno favorite: we're bringing back Tips and Tricks.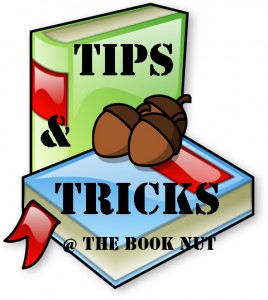 Tips and Tricks has two categories to it. First there's your general bookish stuff. This is where my tips for collecting, bargain shopping, and other such things go.
The second category encompasses book care and repair. Book repair is something near and dear to my heart. I've spent a long time learning the skills required to make a professional looking fix on all sorts of problems that may arise with a book collection.
While I want to continue with both of these categories, I need your help! I want to know what kinds of Tips and Tricks you'd like to see. Do you want more general bookish or more repair posts? Let me know in the comments.
Now, since the title of the post is about care and repair, let's take a look back at the repair topics we've already covered.
I have plenty of other topics in this category that I could cover, and if there are any you would like to see I'd be happy to do them! Just put them in the comments! Here's a couple I already have in mind.
Making a Hardcover Out of Your Paperback
Advanced Storage: Dos and Do Nots
eReader Care
Old Book Restoration
Let's see, what other topics do I have planned in the general bookish section. I'm debating on comparing different eReaders based on what you might or might not want to be doing with them but that post is a long while off. A little closer to being posted would be topics such as:
Keeping a Autograph Book
Protecting and Storing Your Swag
Building Your Own Book
The Bookmark Conundrum
Searching For Sales
So that's what's in the works to bring back this awesome feature! I hope you guys enjoy what's coming your way and we can keep this oldie but goodie going for a long time.
I would love input on what you guys want to see here. Our suggestion box (ie, the comments) is always open!
Fro my shelf to yours,
Related Posts