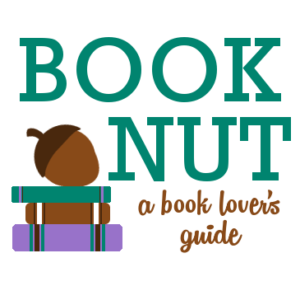 Erin- The Book Nut Founder, Admin, Blogger


I fell in love with reading when I was very young. I remember my mom reading Harry Potter to me and getting impatient that she would only read one chapter a night. So I grabbed the book and read it myself. I used to get in trouble all the time for reading during class when I should have been paying attention but my teachers couldn't deny my high reading level.
These days I am a college graduate with a degree in English Literature with a minor in writing. My future plans involve getting my Masters in Library Science and promote literacy and reading for fun whenever and wherever I can.
Other than reading and writing I enjoy watching older television shows such as M*A*S*H and Murder She Wrote, fangirling over Sherlock and Benedict Cumberbatch, and going on thifting trips with my friends.
Of all the books that I've read my favorites seem to be mostly within the YA realm, particularly fantasy (especially high fantasy) and dystopian. This does not mean my tastes are confined only to those genres, or even just within YA. I have a very eclectic taste in books, just like with my tastes in other popular culture. Though if I'm honest, I find it difficult to really get into contemporary.
I am an avid and accomplished bargain shopper, it's quite the obsession actually. If you need to know where to get good deals on books online, I know where you need to go!
20 Things You Probably Don't Know About Me
With Lauren Myracle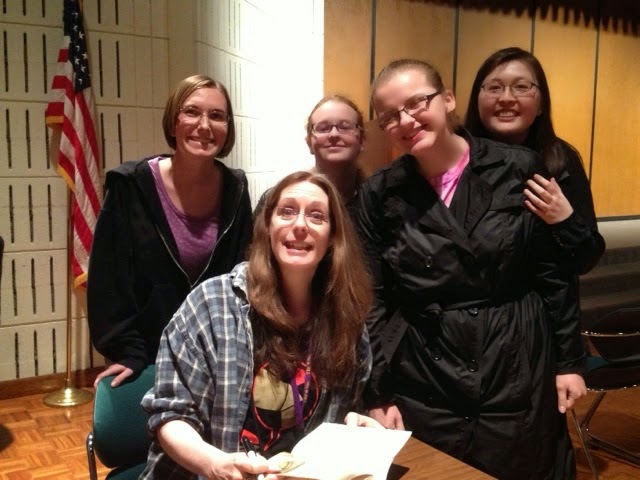 Laurie Halse Anderson
With Natalie Richards and Mindy McGinnis
Jody Casella and I.
 sapce
---
 Space
Jennie "Jennzah"- Book Nut Owner/Reviewer/Admin
 spacy space space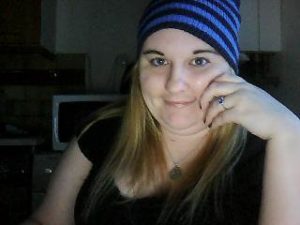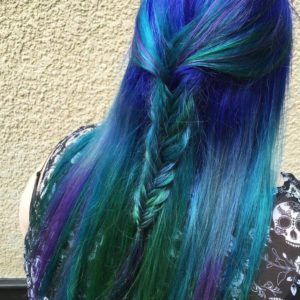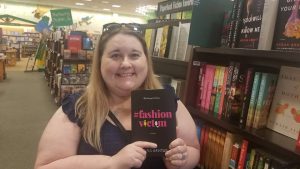 I'm Jennie, but online I go by "Jennzah". (A friend gave me the nickname when i was in my teens and it stuck).
Things I am : a book nerd, an audiophile,  cat mom, British-American, Funko collector, lover of fun hair color (see above).
I've been reading since three years old. When I was 9 I picked up THE VAMPIRE CHRONICLES by Anne Rice and thought  "YES.". I've been addicted to paranormal reads ever since. I read a kaleidoscope of things, but my preference usually sticks to anything fantastical, YA, Urban Fantasy, or otherwise.
My favourite author is Neil Gaiman, and my favourite book of all time is STARDUST.  Other favourites include  Jessica Spotswood, Kendare Blake,  Joelle Charbonneau, Mindy McGinnis, Sherry Thomas, Brenna Yovanoff, Amina Ahktar, Gretchen McNeil, Jennifer Estep, Marissa Meyer, and Marie Lu.
Aside from reading, I also write, but my writing is currently on hold due to a huge block. Title is currently called LOVE LIKE WINTER.
I can usually be found listening to my favourite singer, Paul Dempsey, and Something for Kate (his band), Florence and the Machine, or The Weeknd. I love discovering new music and building custom playlists, so Spotify is my jam. I also have a Funko collection that is threatening to over take my book collection, so that's a thing.  I also have a HUGE amount of fandoms, that we really shouldn't talk about, but a few of them are House, Game of Thrones, Doctor Who, Bob's Burgers, and Supernatural.
I like to hang out at home with my husband (who looks and speaks just like a Weasley Twin) — and we have lived both in the UK and in the US. Currently we live somewhere in Wisconsin with a cadre of crazy cats.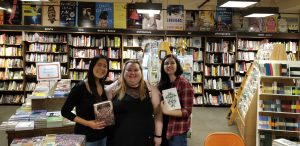 With Evelyn Skye and Mindy McGinnis (2020 Epic Reads Meet-Up)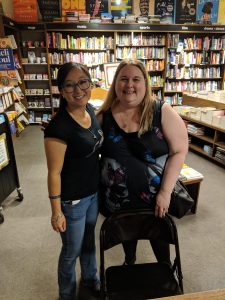 With Kendare Blake (Epic Reads Meet-up 2018)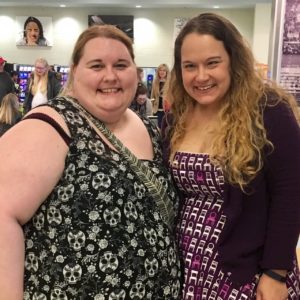 With Jessica Spotswood (NoVa Teen Book Fest 2017)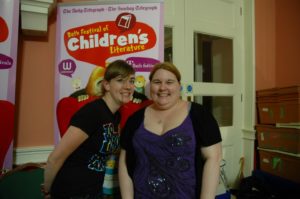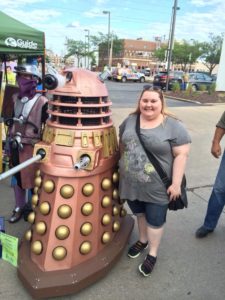 ---
Laura the Bibliophile- Book Nut Co-Blogger, sorority sister, IRL friend
Laura is a writer of many stories and critique partner of the founder. The two are often seen at bookish events together all over the Northeastern and Midwestern US. Laura and Erin met at college their Freshman year and started their blogs in the later part of their time there. Soon they decided to blog together and even started a ridiculous booktube book club, Under Covers. They joined the same sorority and became sisters in everything but blood.
Laura started reading when she was four and has not stopped since. She is a notorious bibliophile, a parody musician, an archer, and a tea addict.
---
Allison – Awesome Contemporary Guest Blogger!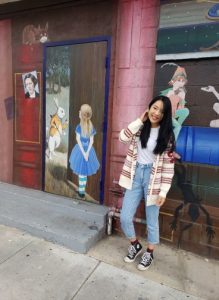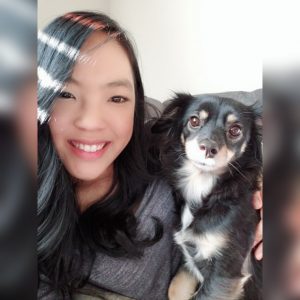 Allison absolutely LOVES reading anything contemporary. Her favorite authors include Morgan Matson, Akemi Dawn Bowman,  Sarah Dessen, and Danika Stone. You can also find her hanging out with her dog, Lily, roaming the streets of Disneyland, or curled up with a good book. You can visit her at abookishalli.com
---
Liz- Guest Blogger
Liz is a children's librarian who loves all sorts of reads. In her spare time, she loves to ride her bike, hang out with her cats, and she is thinking about teaching dinosaurs to knit. You can find her at her blog, consumedbybooks.com
---
Jenny- FORMER Book Nut Co-Blogger, owner of Reading on the Farm
I'm 30, a wife and mother to three wonderful kids. I live on a farm with a dog, two cats, three rabbits, two goats and 10 chickens. I'm a bookkeeper by day and an avid reader the rest of the time. I've been a huge reader as long as I can remember, my mom told me I started reading at 3 and never stopped. Re​ading enriches every area of my life and I've been so happy to see my kids love it as much as I do.
My favorite genre is YA, especially fantasy and contemporary and some of my favorite authors are Maggie Stiefvater, Sarah Rees Brennan and Jennifer L. Armentrout. I've also really enjoyed getting into reading NA this past year and have discovered some great authors. I've been blogging for about a year and am so excited to start co-blogging here!!
Along with reading, I enjoy watching and geeking out over Game of Thrones and my newest obsession, Doctor Who!! I also love sewing, knitting and crocheting and have recently tried my hand at cross stitching (long story short – it looks awesome but takes. forever.) There's never enough time in the day to do everything i'd like to do!
I can't wait to share my love of reading and good books with you guys! Happy reading!