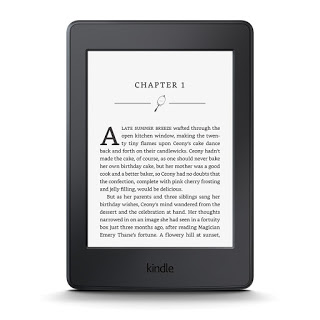 Book Product Review: Kindle Paperwhite
Welcome to a new feature here at The Book Nut! There are many products related to books and reading that we use on a regular basis, and we thought it would be helpful to share our experiences with some of these in case you were in the market! We'll be doing this as we come across new items that we love, or love to hate. Thanks to Verbosity Reviews for the idea!
I'm a fan of books. Books of all shapes and sizes and formats. I didn't use e-books much until I got my first smart phone and discovered the Kindle app. It was so convenient to have a variety of books on hand at all times without the weight of lugging them around. The downside? The tiny screen. So after a while, I decided to purchase a Kindle. But what kind? There were so many to choose from. I ended up going with a Kindle Fire first, but didn't really care for it. Long story short, it was heavy, glitched a lot and the screen wasn't particularly easy to read.
So after a while, I ended up getting the Kindle Paperwhite. At around $100 depending on sales, it's definitely not the cheapest e-reader out there, but it's not the most expensive either.
What I love about it:
1) It's lightweight – you can easily hold it in one hand without injuring yourself or feeling like you're holding it in an awkward position. I rarely need to prop it up because it's got a very sleek design that fits well in your hand.
2) The anti-glare screen and lighting. This is awesome. The way the screen is designed, no matter what kind of light you're reading in, the words are clearly visible. I can sit outside in direct sunlight or in a dark room and with minor adjustments to the brightness, easily read without any eyestrain.
3) The battery life is excellent. A full charge can last up to two weeks, depending on how much reading you're doing. It's always a surprise when the low battery light pops up since I have to charge it so infrequently.
4) Wi-Fi. When I bought the Paperwhite, you had the option of paying slightly more and having free 3G service for downloading books as long as you were willing to put up with ads. There was a pricier option that gave you 3G with no ads as well. I ended up going with the ads and haven't regretted it. They aren't intrusive and don't bother me at all. Please keep in mind this does not have an internet browser but is solely for purchasing and downloading books and magazines.
5) Extra features. I use the bookmarking and highlighting features a lot. It makes it easy to mark a specific page to come back to and highlight quotes or sections of the book. There's also a standard dictionary and thesaurus feature.
6) Percentage completed. This allows you to easily see how much of the book is left and it also adjusts to show how fast you're reading.
Overall, I can't recommend this product enough. The newer version that's out now looks like it has an even better and clearer screen, with the same styling as the version I have. With the case I bought, I really enjoy using this for any kind of reading. Keep an eye out for the review of the cover I use coming up soon! If you have any questions about it, I'd love to answer them below.
– Jenny
Idea from Verbosity Reviews
Related Posts