Liz Coley's internationally best-selling psychological thriller
Pretty Girl-13
has been published in 12 languages on 5 continents and has been recognized by the American Library Association on two select lists for 2014 including Best Fiction for Young Adults.
The new Tor Maddox series, including prequel short story Disarmed, and three novels Unleashed, Embedded, and Mistaken represents "the lighter side" of Liz.
Liz's other publications include alternate history/time travel/romance Out of Xibalba. Her short fiction has appeared in Cosmos Magazine and numerous anthologies.
Liz lives in Ohio, where she is surrounded by a fantastic community of writers, beaten regularly by better tennis players, uplifted by her choir, supported by her husband, teased by her teenaged daughter, cheered from afar by her two older sons, and adorned with hair by her cats Tiger, Pippin, and Merry.
S

cenes from a Life: Shy Girl and Quiet Boy
Senior prank, senior ditch day, senior gift—these were high school traditions in my day and still are across the country. In my small southern California high school, we hotly anticipated another special tradition: Grad Night at Disneyland! The amusement park would shut down to the general public and allow packs of high school seniors to roam Fantasyland, Tomorrowland, and the their own awkward teenage-land. With practically no lines for the rides, it could have been paradise.
Unlike prom, where we were expected to go as 1970's heteronormative couples, Grad Night was usually a free-for-all; no coupling required. Imagine my surprise when a boy who had never said a single word to me before—let's pseudoname him Gerry—asked me to go as his date. I was fresh off a painful break up with my high school sweetheart. (Okay, it was about nine months past, but still…) My ex had moved on to another girl. I was emotionally stuck in the past. So I thought, "What the heck. Why not? It would be symbolic of progress." That's how I thought in those days. In self-conscious symbols and meaningful gestures.
Like my ex, Gerry was a long-distance runner. Like my ex, he was tall with blue eyes and curly hair. The resemblance ended there. We had absolutely nothing in common and, with both of us awkward and shy, not a single idea of how to start a conversation with a complete stranger of the opposite sex. I begged two of my girl friends to stick to me like glue, which made it even less likely that he would open up. Ride to ride to ride we went in uncomfortable silence, never making eye contact, but forced, as dates, to sit beside each other, even on the two-hour bus trip home, sharing one bench in our own timid bubbles. In fact, the only two words he was able to muster that evening were: "For you" as he handed me a souvenir Winnie the Pooh at the end of the long, silent evening.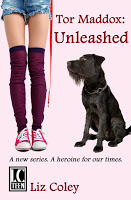 INTRODUCING Tor Maddox, a heroine for our times
"I know that one day, I'm going to have to live in the real world. I'd like it to be a decent one." – Tor
Book I Tor Maddox: Unleashed
When sixteen-year old Torrance Olivia Maddox, self-confessed news junkie, figures out that the mysterious and deadly New Flu is being spread by dogs, she has one question—if the danger is that obvious to her, why hasn't the government revealed the truth and taken action?
Her search for the answer will take her farther than she ever imagined. But then again, she never imagined that man's best friend could become public enemy number one, that men in black might show up in her cozy suburban neighborhood, that she'd spend her sixteenth birthday as a teenaged runaway, and that her effort to save one dog would become a mission to save them all.
Book 2 Tor Maddox: Embedded
Life has been way too quiet for Tor Maddox since her fifteen minutes of CNN fame. Then agent-in-training Rick Turner reappears with what sounds like a simple assignment—to embed herself as his eyes and ears in her own high school. When she agrees to keep tabs on high school state swim champ Hamilton Parker for the Feds, she is plunged into the deep end of a sinister plot. Knowing that freedom, justice, and lives are at stake again, Tor jumps in feet first, but has she gotten in over her head this time?
When observe and report becomes kiss and tell, Tor's first mission may blow up in her face.
Book 3 Tor Maddox: Mistaken
Grab a flotation device and welcome aboard for more shenanigans, villainy, and romance.
Eight leotards and a ball gown—that's what Tor Maddox packed for her summer ballet intensive in New York. Pity she never arrived. Kidnapped once by the good guys and once by the bad ones, Tor finds herself involved in a high seas adventure featuring princesses and pirates, a wedding ring, and the guy she thought she'd never be allowed to see again, junior man-in-black Rick Turner.
Tor's employee ID badge promises: "Your Fantasy Starts Here." It couldn't be more mistaken.
Unleashed
(Amazon buy link – http://amzn.to/1Ipom9Z)
Embedded
(Amazon buy link – http://amzn.to/1Ipoqqo)
Mistaken
(Amazon buy link – http://amzn.to/1SOfvsT)
Liz has a giveaway for her books going through YABooksCentral, here's the link if you want to enter.
Related Posts