It's crazy to think that after 4 years of blogging we are now at this point. That's right, the title is no joke. This is our 1000th post!
I want to thank all of you who read this blog, whether you've been here from the beginning or you're new. You guys have made this possible and I'm so glad to know you all.
In honor of this and the love you all have given us it's time for a giveaway!
This giveaway is going to have 3 prizes and therefore 3 winners. Here's what you guys can win :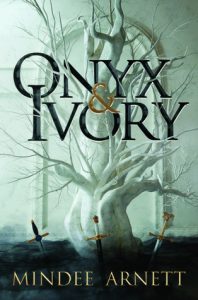 First we have a signed ARC of Onyx and Ivory by Mindee Arnett, courtesy of the author herself. Thanks Mindee!

Next is an ARC of Blood and Sand by CV Wyk.
The third prize is a box of mystery ARCs, chosen by myself.
So, the rules are the same as they usually are. US Only, must be 18 or have permission to give address, etc…
To enter:
Comment below which book you'd like to win and why. 
And that's it! Easy as pie.
I'm looking forward to another fantastic year with you guys, and hopefully another 1000 posts.
From my shelf to yours,
Erin
Related Posts