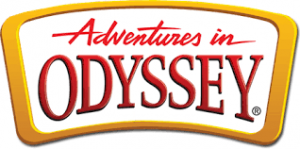 When I was a kid I spent a lot of time reading and listening to audiobooks. I also spent a lot of the time in the car, traveling back and forth between my divorced parents' separate homes. By this point my dad had made the switch from hobo hippie to born again bible belter (queue eye roll).
Because of this I wasn't allowed to listen to my Harry Potter audiobooks (because random latin is EVIL) or read my at-the-time favorite series of Pokemon tie in novels. Instead, my dad tuned us into the big CHRISTIAN station which featured a fairly decent set of children's radio shows on Saturday mornings. One of these, and the only one I can remember, was Adventures in Odyssey.
Adventures in Odyssey was a Focus on the Family radio drama which began in the late 1980s as a clean Christian equivalent of an after school special. You know, trust the Big Man, listen to your parents, yada yada. However, as it grew the show was able to branch out and become a little less preachy (sans the bible verses and lesson roundups at the end or the episodes which feature stories directly from the bible).
By the late 90's Adventures in Odyssey actually had some incredibly compelling stories. So much so that I remember them even now. It also had a spin off TV show, some books, and now a podcast. What I didn't know is that AIO is still running, clocking in at over 800 episodes!
There are two stories I remember vividly from this series even now. As a kid I would listen every other weekend to this show with my dad but never with my mom (since she actually had good taste in radio and everything besides the children's programing on this station was complete garbage). Instead I would catch up on episodes and relisten to favorites via cassette tapes from my library. These were the two I requested the most:
Gloobers, 1998: As a 90's kid I LOVED computer games. I played them in school, at Latchkey, and even at home. This single episode drama took my love of sci fi and gaming and made my imagination explode with possibilities. It also tempered my obsession a little, as it focus on playing the games in moderation. But it was still tons of fun.
The Novacom Saga, 2000-2002: This was one of the biggest story arcs in AIO history, spanning 2 years, 4 albums, 28 episodes, and a few wrap ups, epilogues, and mini arcs. This, I think, was one of my very first complex mystery/thriller stories and it made me completely forget that this show was supposed to be Christian "lesson time".
This was full on, intensity for elementary school me. People died, my favorite character disappeared (for YEARS), the Novacom company attempted mind control, Whit was used and betrayed. This was hard hitting stuff for an 8 year old.
To this day I remember crying when Eugene disappeared and everyone thought he'd stolen some research for a sinister plot. This was the saga that made me take out all 4 albums at once and skip all the non Novacom filler to get the full story once it was released (which took FOREVER by the way, the compilation album of pure Novacom stuff didn't exist yet). And this is the saga that makes me want to go back at 28 years old to see if it still holds up
—
This morning I did go back and listen to Gloobers, just for the heck of it. I don't know why. I don't even know why this show suddenly popped into my brain. but it did. I have to say, this single episode is just as fun and funny as it was when I was 8. Now, of course these days I pointedly ignore the scripture at the end. But even though I don't do the whole Christianity deal anymore, the show remains enjoyable.
There are good lessons in it that you can separate from the religious aspect. The voice acting is still incredible and the casting, fantastic. Eugene and Whit's voices stirred up so many memories when I heard them and I was glad I got to experience this as a kid. If only I could get my hands on that Novacom saga compilation album… I think I have some hunting to do.
Where you an Adventures in Odyssey kid? What was your favorite episode? Share them in the comments.
From my shelf to yours,
Erin
Related Posts