Wicked As You Wish (A Hundred Names for Magic, #1)
by
Rin Chupeco
Published by
Sourcebooks Fire
on March 3, 2020
Pages:
432
Goodreads
Tala Warnock has little use for magic – as a descendant of Maria Makiling, the legendary Filipina heroine, she negates spells, often by accident. But her family's old ties to the country of Avalon (frozen, bespelled, and unreachable for almost 12 years) soon finds them guarding its last prince from those who would use his kingdom's magic for insidious ends.
And with the rise of dangerous spelltech in the Royal States of America; the appearance of the firebird, Avalon's deadliest weapon, at her doorstep; and the re-emergence of the Snow Queen, powerful but long thought dead, who wants nothing more than to take the firebird's magic for her own – Tala's life is about to get even more complicated….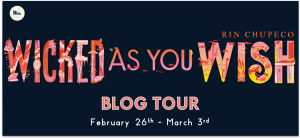 We're so happy to be part of the WICKED AS YOU WISH blog tour! Below, check out Rin's playlist for the book! If you've read this amazing book, please let us know in the comments!
---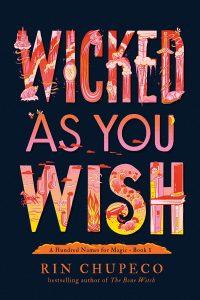 When a hidden prince, a girl with secrets, a ragtag group of unlikely heroes, and a legendary firebird come together…something wicked is going down.
Many years ago, the magical Kingdom of Avalon was left encased in ice when the Snow Queen waged war. Its former citizens are now refugees in a world mostly devoid of magic. Which is why the crown prince and his protectors are stuck in…Arizona.
Prince Alexei, the sole survivor of the Avalon royal family, is hiding in a town so boring, magic doesn't even work there. Few know his secret identity, but his friend Tala is one of them.
A new hope for their abandoned homeland reignites when a famous creature of legend, the Firebird, appears for the first time in decades. Alex and Tala must unite with a ragtag group of new friends to journey back to Avalon for a showdown that will change the world as they know it.
"A nail-biting quest that introduces a gripping new series." ―STARRED review, Publishers Weekly
---
Rin's Playlist for WICKED AS YOU WISH :
Character Songs
Tala Warnock: Bamboo by Kimie

Thought love was easy and I kept Belivin'
In that old fantasy, that fairytale dream
Real life has shown us it's a rollercoaster and, oh
We had to learn where to take our turn
Alexei Tsarevich: Skin by X-Ambassadors

Who do I know in here
See, I struggle to be
Two different people at the same time
So I keep running, running my mouth, trying to be somebody
Trying to be somebody I'm not
Ryker Cadfael: Suit and Jacket by Judah & the Lion

I ain't trading my youth for no suit and jacket
I ain't giving my freedom for your money and status
So don't say I'm getting older
'Cause I'll say it when I do
Kensington Inoue: Where My Love Goes by Lawson

My love goes out of my heart and into the wind
Out my guitar and under your skin
Into your house and out of your headphones
That's where my love goes
Kay Warnock: Low Life by X-Ambassadors

I'm nothing but a low life
Thinking about my own life
I'm trying to fight the good own fight
But after it all, I'm still just a low life
Lumina Makiling-Warnock: Maybe the Night by Ben & Ben

Moon has never glowed this color
Hearts have never been this close
I have never been more certain
I will love you 'til we're old
Nya: First Time by Lifehouse

Lookin' at you
Holdin' my breath
For once in my life
I'm scared to death
I'm takin' a chance
Letting you inside
Loki Wagner: Renegades by X-Ambassadors

Long live the pioneers
Rebels and mutineers
Go forth and have no fear
Come close the end is near
West Eddings: Take My Hand by The Cab

Now take my hand
And we will run away
Down to this place that I know
How did this night become the enemy
It's over, it's over, it's over
Zoe Carlisle: New York City, 1964 by Shawn Amos

Winter came so soon
We watched All About Eve in the afternoon
I see her, east of the sun
One last bow and the curtain comes down
Can you believe I'm on my own?
Cole Nottingham: Who Did You Think I Was by the John Mayer Trio

Here is a line that you won't understand:
I'm half of a boy, but I'm twice the man
Carry the weight of the world in the palm of my hand
Who did you think I was?
---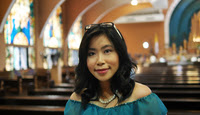 Despite uncanny resemblances to Japanese revenants, Rin Chupeco has always maintained her sense of humor. Raised in Manila, Philippines, she keeps four pets: a dog, two birds, and a husband. She's been a technical writer and a travel blogger but now makes things up for a living. She is the author of The Girl from the Well, The Suffering, The Bone Witch trilogy, and the A Hundred Named for Magic trilogy. Connect with Rin at rinchupeco.com.
Related Posts