I went to the 2014 Rochester Teen Book Festival this past Saturday at Nazereth College with a group of my friends. We couldn't believe how many people showed up this year. They estimated around 3,000 teenagers, librarians, teachers, and other interested folks had shown up. I even spotted a couple of bloggers and booktubers in the crowd. Ariel Bissett, a popular booktuber, walked past our group, but I don't get a chance to talk to her. That would have been cool. I snapped a few pictures from the opening.
Neal Shusterman (Left) and Ellen Hopkins + (Right)
Laurie Halse Anderson (Left) and multiple authors (Right) enter.
My friends and I entered a few of the drawings and won a few things, but you can see that in the Swag and Book posts. Here I want to focus on my experiences with the authors and the panels. Our first panel of the day was with Meagan Spooner (author of the Shadowlark trilogy and Co-author of These Broken Stars) and Cecil Castellucci (author of Tin Star). They talked about Women and Sci-Fi. Both had a lot of really interesting things to say and unique perspectives about writing sci-fi. We talked about Star Trek, and Doctor Who, Cecil talked about the roleplaying game she made to go with Tin Star and Meagan talked about her galaxy shoes from ModCloth. You can kind of see them in the picture.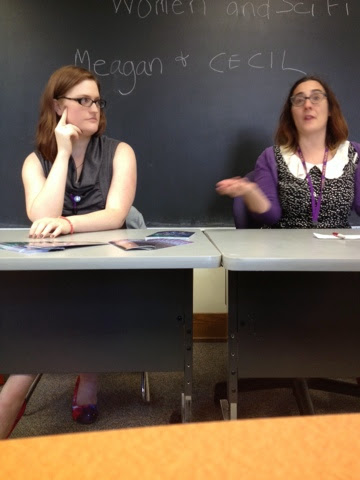 The next panel was my favorite out of the four we saw. Paolo Bacigalupi (Ship Breaker), Neal Shusterman (author of 44 books including the popular Unwind Dystology) and Alex London (Proxy and Guardian) talked about their preoccupation with damaged worlds.
Alex London had not been at the opening due to a flight delay. Of the three authors with flight delays, only Alex managed to make it to the event. Margaret Stohl and Ann Brashares did not make it so we left out piles for them in the car. Alex, Neal, and Paolo were so enjoyable to listen to. They all have great senses of humor and had a lot to say. Alex made a joke about reading the biography of Pol Pot while writing Guardian says, "You know, the heartwarming story of a boy and his genocide", which I promptly quoted on Twitter. Paolo talked about being very depressed while writing one of his dystopians and having to writing his humorous zombie book to cope. Neal discussed how he liked to write all sorts of different things, never really wanting to be a formula writer.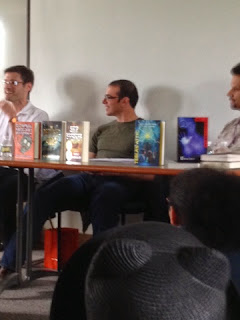 Next, we went to see the debut authors panel with Amber Lough (Fire Wish), Cristin Terril (All Our Yesterdays), Tess Sharpe (Far From You), and Michelle Madow (Diamond Sisters). Alexandra Coutts (Tumble & Fall) was not there due to illness. They talked about the writing process, the process of getting their book published, getting paid, critiques, and a whole bunch of other things about being new authors. We sat near Michelle's mother who stayed at her daughter's panel through all of the sessions to take pictures and such. She was a very cool woman.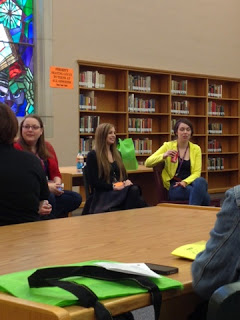 Left: Cristin Terril, Michelle Madow, and Tess Sharpe. Right: Amber Lough
Our last panel was about contemporary with Lauren Myracle and E. Lockart. I don't usually read a lot of contemporary but we picked this panel because we wanted some information about E. Lockart's recent release We Were Liars. We were confused about a few key plot points, I won't talk about which ones because those would be MEGA SPOILERS! We got our information later at the signing because we just couldn't let it go. We had to leave a bit early to get to the signing with our large bags of books, I had about 30 packed into a rolling suitcase.
Then it was time for the signings. I got to talk to most of the authors, but not all. Because there were just so many, I'll just talk about the ones that stood out.  Alex London and I had a great conversation about Guardian. I told him how I'd loved the book and he thanked me, saying that writing a sequel was scary for him as he was afraid that it wouldn't live up to Proxy. E. Lockart and I talked about blogging and getting people reading with gateway books, Amber Lough was giving out and signing ARC copies of her first book Fire Wish.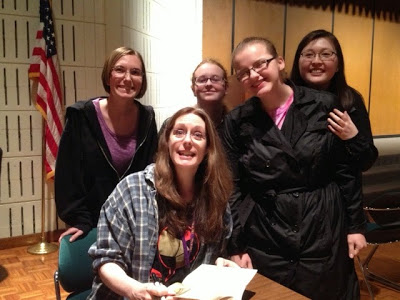 Us with Laurie Halse Anderson
Cristin Terrill had readers signing her own copy of All Our Yesterdays while she signed ours. Michelle Madow and Tess Sharpe were so happy to talk to people and had the biggest smiles for everyone. The place was absolutely packed. I talked to a few people in line about being a blogger, I even talked to a few who were interested in starting their own blogs. I'll always say go for it! Expand your writing skills! Share your ideas and tastes with the world! I discussed Supernatural with three different groups, as I was wearing my Castiel shirt.
But one of my favorite people to meet other than Alex London was Lauren Myracle. I had brought 6 of her books with me and she didn't care at all about the 3 book rule. We talked about blogging and reading, and even about my own stories and novels that I'm working on. She was very cool and happily climbed over her table to take pictures with us!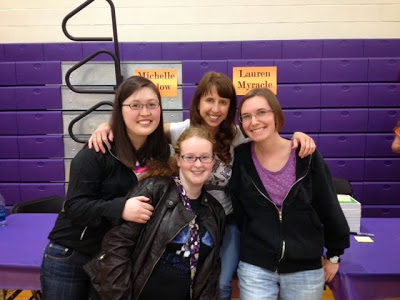 Us with Lauren Myracle
We finally finished up and collected our stuff, heading back to the car. On the way we ran into Jay Asher trying to find his way to a different parking lot. We didn't realize it was him until we walked away but we pointed him in the right direction and I gave him my map so he could get there a little faster.
Stay tuned for two more posts, one about the swag and one for the books. If you ever get a chance to go to TBF, I highly recommend it. Thank you to the wonderful authors who were so nice and cool despite the huge crowds. You guys were awesome! To everyone else…
Keep Reading!
The Book Nut
Related Posts