We left Ohio at 11 on Friday, and maybe we should have thought that through a little better. Here's why: we hit the Rochester area around rush hour. No one was using their turn signals. I kinda wanted to die. But we got to the hotel in one piece and commandeered the hot tub for our group's use.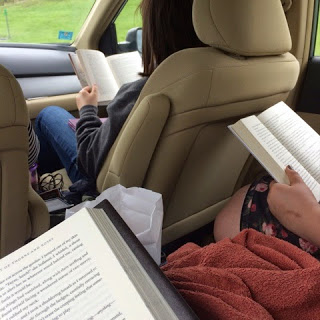 Bloggers in the car
We got up early the next morning. Mia and I had done this before so we knew what to do. Get to the raffle ASAP. Here's a tip for anyone planning on going to Rochester's festival: hit the raffle table before the authors come in. This way you'll beat the mob that's about to come down on your head. I bought 3 rounds of raffle tickets and won 8 ARCs. Last year I got The Fire Wish so I got really excited when I grabbed the only copy of the sequel they had.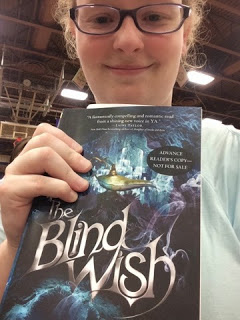 Per Amber Lough's request, with The Blind Wish
We hit the Barnes and Noble table and I stuck to my limit, only purchasing two books. All The Bright Places by Jennifer Niven and The Naturals by Jennifer Lynn Barnes.
We got decent seats and it was time for the parade of authors!
A little Michael Buckley, some Charles Benoit, and a nice shot of AS King's head.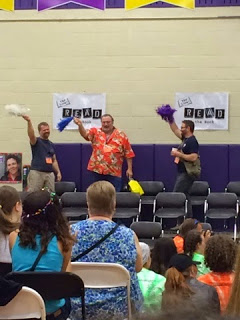 The authors were getting ready for Truth or Talent, TBF's author game show hosted by Burt Spurious (Charles Benoit in a wig and mustache).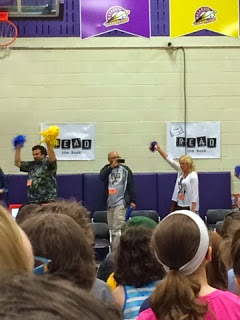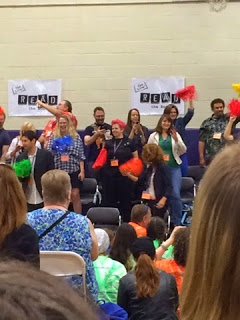 And so it began. This year was a little short on the talents, most author chose to tell truths. Some were really good and funny but many were just ok (apparently a lot of them didn't read the emails carefully, their words not mine). But there were some really great talents for those who did. Julie Kagawa disarmed a knife wielding Burt Spurious (after showing him which end to hold).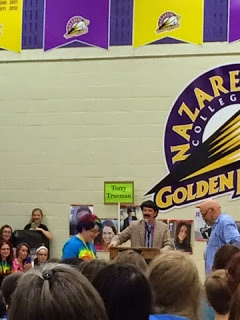 A volunteer getting her hair cut.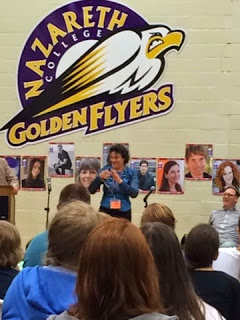 April Henry escaping handcuffs.
April Henry escaped a pair of handcuffs without using the stashed key in her bra, we had a "colony" of sea weed perform with audience participation, and a rendition of the William Tell Overture done by smacking one's self in one's face. Not to mention the author who embarrassed her kids by burping on command.
Finally it was time for the panels and our picks were all over the place. First up was Julie Kagawa and Katie McGarry: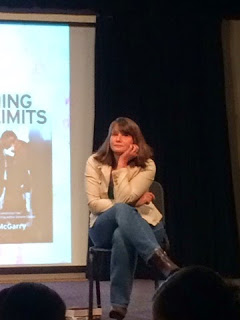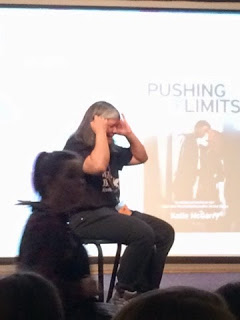 They write on very different topics but had a lot to say in common. Katie when deep and Julie went nerdy.
They gave out homemade dragons (Julie) and ARCs of upcoming books (Katie) for asking questions. A lot of the younger teens were stuck on the fact that Julie loved anime so that took up a lot of the conversation. When that was over we hustled to the library for Neal Shusterman, Heather Terrell, and Jonathan Maberry.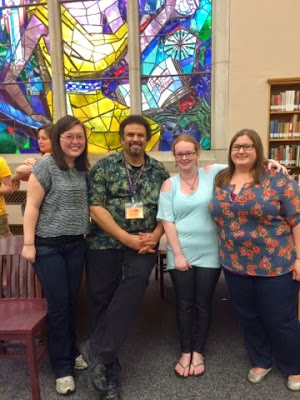 Unfortunately I couldn't get good pictures of the panel because there were too many heads in the way. Heather talked about the historic influences on her Relic series and all of the authors had a lot to say about developing complex characters. For the writers in the room there was a lot of mental note taking. Sadly, we missed Heather and Jonathan's signing so we couldn't chat with them further. 🙁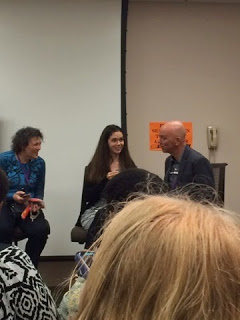 We moved downstairs for the mystery/thriller writers. Our group had come the farthest (5hrs from Ohio) and April, Charles, and Jennifer seemed impressed. While we were waiting to start we chatted with them about it. Here, I finally got picked to ask a question and I wanted to know, since they were really prolific authors, if they ever forgot or reused characters (a question that pertained to a previous discussion with April). Jennifer and Charles agreed, sometimes it was difficult to keep track of names and side characters. I'm glad I'm not the only one.
We had to duck out early to grab some lunch before James Howe's panel. Laura, mom, and I were stoked to finally meet him. We watched him read a little from one of his newer books and talk about how his coming out and his daughter affected writing The Misfits and subsequent sequels.
We booked it across the campus towards the gym for the main signing. Because I had so many authors to hit, mom and I split up. We still managed to miss people. Ally Condie, Gayle Forman, and Sarah Dessen had massive lines so we only got Ally. Heather Brewer, Heather Terrell, and Jonathan Maberry disappeared before we got to them, and everything was so crazy we lost track of a few. In the end I only managed a few signing pictures.
I had brought my complete Bunnicula series for James Howe.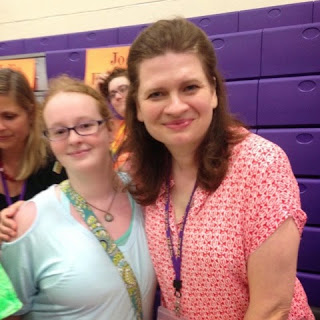 Emmy Laybourne was fabulous to chat with (stay tuned for some fun that came from that conversation at a later date).
And of course we got one with fellow Ohioan Cinda Williams Chima.
It was time to go and I realized that mom had missed Jennifer Niven. While walking to our car I spotted her. I took a chance, I ran for it. Now, let me explain. Her book was the one I had bought earlier that day specifically for the event. I'd been waiting for a while to pick it up so I could do it there. So to walk away without meeting her would have been really sad. Luckily, I caught her and she was totally cool with my out of breath awkwardness. It made her laugh and she told me she appreciated my dedication and it made her day. Awkward blogger win!
While I still missed a few folks I was really happy with the event. It was fun and I got to have a lot of lovely conversations with both authors and fans.
Stay tuned tomorrow for the haul post to see everything I bought, brought, and won at the event.
Keep Reading!
Related Posts