Hey, all. Sorry this is a bit late, but apparently my WordPress app hates me, so it decided to delete the original post.
So.
As you may recall from previous years, we like to go to the Rochester Teen Book Festival every May. This year it was me (Laura) and Erin. This was Erin's fourth year and my third. We made the drive from Ohio to our hotel without hiccups! This year, we stayed in Victor (Krum Land) instead of in Iron Quidditch, and it was actually even better. Our hotel was great, the path to Nazareth College was easy and didn't go through the city, and we were pretty close to food and Barnes&Noble (food and bookshops being of equal importance in our eyes.)
The day of the event, we rose with the dawn, determined to get to the event before it started. This tactic may have worked a little TOO well, as we found ourselves sitting in an otherwise empty parking lot with an hour still to go before TBF. Oops. It worked out though. We got to check out the raffle table, merch table, and the vendor table before they were all picked over, which is always a challenge.
Erin and I regrouped in the cafe and adjusted our plans based on the official event schedule. We decided not to watch the Truth or Talent segment at all this year. It's not really for us, and it just feels awkward. Instead, we got our things together and decided to focus on our panels.
I won't go into the panels at length because, frankly, I could type thousands of words about them. They were magnificent.
My favorite by far was Libba Bray's panel. She talked about the first story she ever wrote and about challenges that authors face. She was hilarious and interacted a lot with the audience. I am not at all biased because she is my favorite author. Nope. Not even a little bit. Here's a picture I got with her during the signing.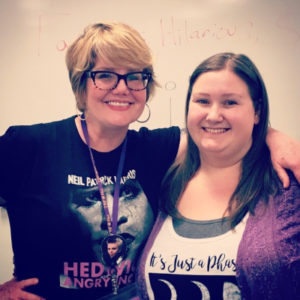 The signing, by the bye, went fantastically, if you couldn't tell. There are, of course, many more pictures from the day of our books, of authors, etc. but there are too many to post here. Erin and I got around to pretty much all of the authors, and got to chat with some of them a bit. We even found a new Ohio author to feature next April, so look out for it!
We did note that all the teens seemed particularly well-behaved this year. I'd like to give a shout-out to all the teens who came out, to the parents and teachers who bring them, to the authors who give us their time, and of course to the amazing event staff! TBF would never work without their endless patience and energy.
TBF this year went about as smoothly as we could have hoped, and I believe it was the best one yet! As we drove away, we were already making plans for next year, and for which book festival to hit next!
From my bookshelf to yours,
Laura
Related Posts