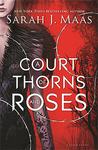 A Court of Thorns and Roses (A Court of Thorns and Roses, #1)
by
Sarah J. Maas
Published by
Bloomsbury USA Childrens
on May 5th 2015
Pages:
421
Goodreads
Feyre's survival rests upon her ability to hunt and kill – the forest where she lives is a cold, bleak place in the long winter months. So when she spots a deer in the forest being pursued by a wolf, she cannot resist fighting it for the flesh. But to do so, she must kill the predator and killing something so precious comes at a price ...
Dragged to a magical kingdom for the murder of a faerie, Feyre discovers that her captor, his face obscured by a jewelled mask, is hiding far more than his piercing green eyes would suggest. Feyre's presence at the court is closely guarded, and as she begins to learn why, her feelings for him turn from hostility to passion and the faerie lands become an even more dangerous place. Feyre must fight to break an ancient curse, or she will lose him forever.
I have been hearing Erin go on about Sarah J. Maas's writing for quite a while now, and I finally decided to listen and pick up this book. I was excited not only because of the hype, but also because it's a retelling of Beauty and the Beast, which is one of my very favorite fairytales! Then we went to TBF, and actually seeing the author in person was incredible. She's the best, and this book is the best, and I'm going to just kind of keep gushing, so I'll cut myself off and launch right into the review, if that's cool.
CHARACTERS 

Feyre is wild. I don't identify with her, but she's great. She is a strong woman who does what she can to keep her family safe and fed, even if she doesn't get much back. She does what she has to in order to survive, and she doesn't apologize for it. She can be dense at times, but she's in an unfamiliar world, and she can be forgiven for that.
I… do not like Tamlin at all. Not sorry. I think he's awful and I did't want them to be together from the very beginning. Honestly, I was sort of hoping that Feyre would leave or get together with someone else the entire book. That said, he is well-written and the perfect kind of beast.
The others I won't go into individually, but Lucien is my favorite minor character in this book. Well, Lucien and another character that would be too spoilery to tell.
SETTING 

Setting gets four and a half nuts, not because it does not perhaps deserve five nuts, but rather because I just hate spring. Personally, it's my least favorite season, so it was irritating to read all of Feyre's descriptions of how lovely it all was and blah, blah, blah. It's kind of a fitting home court for Tamlin. Spring looks like you're supposed to love it, but really it's just a hot mess. The other locations the characters visit were like a breath of fresh air, even when they were brutal.
PLOT 

This is by far the best twisting of Beauty and the Beast that I've ever read. I love the inclusion of the sisters (it's the part of the original that I most miss in Disney's interpretation, tbh) and I like the way Feyre gets into this predicament. It kept me guessing, and the only thing I didn't love was the love story. Yes, I know that it's most of the book. But it was interesting to see how things developed, and the ending was incredible. I was NOT at all expecting it to happen the way it did. I had thought of the different ways it could go, but that was not one of them. It made me ridiculously excited for book two.
RELATIONSHIPS 

The main relationship of Tamlin and Feyre is awful and I hate it, but it's also endlessly interesting, the way they both are stubborn and single-minded about it. The development and all the little pieces that come together and fall apart over the course of things. I like the other relationships better: Feyre and Lucien's relationship is flawed, but great. Her relationship with her sisters (and their relationship with each other), Lucien and Tamlin's relationship, Feyre's relationships she forms with another character toward the end of the book. The enmity between certain characters is also well-written. The way the Spring Court reacts to the blight, the way the humans interact with fae… it speaks to a long history in a way that can be difficult to convey.
STYLE  

The style of this book was wonderful. I loved that we saw everything from Feyre's POV, because she is flawed and human, and she doesn't know everything. You discover things as she does. The style fully pulled me into the story and didn't let me go until I was staring at the back cover and it was somehow 3:00 am.
My suggestion would be to read this book immediately. Now, as a disclaimer, this series is frequently shelved and declared to be YA, but it is most decidedly NA. Please take that into consideration.
From my bookshelf to yours,
Laura
Related Posts