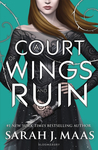 A Court of Wings and Ruin (A Court of Thorns and Roses, #3)
by
Sarah J. Maas
Published by
Bloomsbury Childrens Books
on May 2, 2017
Pages:
699
Goodreads
Looming war threatens all Feyre holds dear in the third volume of the #1 New York Times bestselling A Court of Thorns and Roses series.

Feyre has returned to the Spring Court, determined to gather information on Tamlin's manoeuvrings and the invading king threatening to bring Prythian to its knees. But to do so she must play a deadly game of deceit – and one slip may spell doom not only for Feyre, but for her world as well.

As war bears down upon them all, Feyre must decide who to trust amongst the dazzling and lethal High Lords – and hunt for allies in unexpected places.

In this thrilling third book in the #1 New York Times bestselling series from Sarah J. Maas, the earth will be painted red as mighty armies grapple for power over the one thing that could destroy them all.
I have now read through this series twice, and I adore it. All my favorite books are the ones where I discover more and more each time I read them, and this series definitely falls into that category.
CHARACTERS 
The characters keep evolving and building through this series, which I appreciate. Many of the things they say and do would be unimaginable for the character of the previous book.
SETTING
I ADORE the settings in this series! Maas, in making Feyre an artist, gifted us the most beautiful descriptions of the realm where her story takes place. It is all too easy to close your eyes and see clearly every city, every room, every landscape. (This is gushing, but I'm not sorry.)
PLOT
The plot is fantastic. I did not sort it out on my own two chapters in, which I always appreciate. It really kept me guessing until close to the end, and while the denouement was satisfying, it left enough little threads to keep me interested in future novels set in this world. That's all I'm going to say, because anything else I could tell you would be a crazy spoiler.
RELATIONSHIPS
Unexpected things are still happening with relationships, even in this, the third novel in the series. Some things are blossoming while others are settling and getting comfortable. The beautiful thing is that even relationships that seem to be settling down remain exciting to read. Too often, once the newness wears off, a friendship or love interest can feel a little stale, but Maas avoids this, and every interaction feels important.
OVERALL RATING
Five Nuts! The loose ends I was fussing over have been tied up, at least temporarily. There was excitement and heartbreak, redemption and disgrace. I'm not going to go into it because this is a third novel, but trust me.

From my bookshelf to yours,
Laura
Related Posts