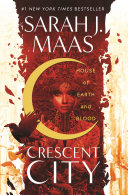 House of Earth and Blood
by
Sarah J. Maas
Published by
Bloomsbury USA
on March 3, 2020
Genres:
Action & Adventure
,
Apocalyptic & Post-Apocalyptic
,
Epic
,
Fantasy
,
Fiction
,
General
,
Paranormal
,
Romance
,
Science Fiction
,
Urban
Pages:
816
Goodreads
A #1 New York Times bestseller! Sarah J. Maas's brand-new CRESCENT CITY series begins with House of Earth and Blood: the story of half-Fae and half-human Bryce Quinlan as she seeks revenge in a contemporary fantasy world of magic, danger, and searing romance.
Bryce Quinlan had the perfect life—working hard all day and partying all night—until a demon murdered her closest friends, leaving her bereft, wounded, and alone. When the accused is behind bars but the crimes start up again, Bryce finds herself at the heart of the investigation. She'll do whatever it takes to avenge their deaths.
Hunt Athalar is a notorious Fallen angel, now enslaved to the Archangels he once attempted to overthrow. His brutal skills and incredible strength have been set to one purpose—to assassinate his boss's enemies, no questions asked. But with a demon wreaking havoc in the city, he's offered an irresistible deal: help Bryce find the murderer, and his freedom will be within reach.
As Bryce and Hunt dig deep into Crescent City's underbelly, they discover a dark power that threatens everything and everyone they hold dear, and they find, in each other, a blazing passion—one that could set them both free, if they'd only let it.
With unforgettable characters, sizzling romance, and page-turning suspense, this richly inventive new fantasy series by #1 New York Times bestselling author Sarah J. Maas delves into the heartache of loss, the price of freedom—and the power of love.

Funny how things change. When HOUSE OF EARTH AND BLOOD came out I was so put off by the urban fantasy setting and the sloggy first 100 pages that I gave it up and moved on to something else. Fast forward to a few months ago when the audiobook shows up on an audible deal and I decide to give it another try. Let me tell you, I am so happy that I did.
I really enjoyed this book on my second go around. Whether it was the audiobook or the fact that I had already read some of the tough-to-get-through bits before I'm not sure. Regardless of which it was I found myself much more able to enjoy the story this time around, and even fell in love with the characters.
Many of HOEB's detractors call it boring and full of info dumping and yes, the first little chunk is a bit. It's a new world and like with many of Maas' series openers she sometimes struggles to get across some of her world building without dumping bits of it in your lap here and there. I found this in both THRONE OF GLASS and A COURT OF THORNS AND ROSES as well. It's definitely something she struggles with as a writer.
That being said, if you can slog through those first hundred or so pages the book picks up and balances out pretty quickly. By the time you realize you're over halfway done with the book, so much has happened that there's no longer a good stopping place and you feel like you have to binge the last 200 pages or so in one sitting.
Characters
It seems to be Maas' M.O now to make swoon worthy love interests that everyone wants for themselves and HOEB continues that tradition. I mean honestly if you love Rhysand you'll love Hunt. Hunt can be a bit more bro-y that Rhys but as far as dark, tortured love interests go he's pretty much on par.
As for our main character Bryce, she's quickly becoming one of my favorite heroines. She's already beat out Feyre in my opinion and sits in a very close second to Aelin. I fully believe that by the time I finish book two when it comes out in January, she will have usurped the "Fire Breathing Bitch Queen".
HOUSE OF EARTH AND BLOOD is full of Maas' classic heartbreaking moments. Particularly between Bryce and Danika and Bryce and Lehabah. Let it be known that Lehabah is one of the greatest side characters in any of Maas' books! Danika is complicated, secretive, and full of heart wrenching information that makes me both happy and sad Bryce lost her. She's kind of a dick, but I still end up liking her by the end.
The Wrap Up
If you want to cry, the end of HOUSE OF EARTH AND BLOOD is sure to get you there. From THE scene in the library onward it was just straight tears. I loved it. Then I hated it. Then I wanted more. That's Maas' for you though. She's great at tearing her readers apart.
So for a book that I originally DNFed that was quite the jump. I'm so glad I gave it another chance. It definitely redeemed itself a few times over. I'm happy to upgrade it to 5 nuts from the original DNF rating.
What did you think of HOUSE OF EARTH AND BLOOD? Are you excited for HOUSE OF SKY AND BREATH? Did you have a similar experience to mine? Go ahead and tell me your thoughts in the comments below.
From my shelf to yours,
Erin
Related Posts