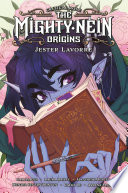 Critical Role: The Mighty Nein Origins--Jester Lavorre
by
Sam Maggs
Published by
Dark Horse Comics
on December 7, 2021
Genres:
Comics & Graphic Novels / Fantasy
,
Comics & Graphic Novels / Media Tie-In
,
Games & Activities / Role Playing & Fantasy
Pages:
56
What's a nice tiefling like Jester doing in a party like the Mighty Nein?

Jester Lavorre had an unconventional upbringing, even for one born in cosmopolitan Nicodranas. Daughter of the famed Ruby of the Sea, she had many opportunities for mischief as a small child, of which she took full advantage! Dive into the mystery of Jester's early years, her first meeting with the Traveler, and the fateful events that set her on a path to eventually join the Mighty Nein.

Jester's story is brought to life by writer Sam Maggs (Captain Marvel; The Unstoppable Wasp) with art by Hunter Severn Bonyun, in direct consultation with Laura Bailey! It's available as a gorgeous hardcover, ready to take its place in your Critical Role library!

4 nuts
Of the Mighty Nein I think most people would agree that Jester Lavorre is the most chaotic of its members. Of course that rather comes with the territory when you're a cleric of Trickster domain. Jester is mischievous, fun loving, and a delightful prankster which comes through beautifully in the art and writing of this comic. So what does a young prequel Jester look like?
MIGHTY NEIN ORIGINS- JESTER LAVORRE follows a young Jester as she meets her beloved Traveler, gets up to mischief, and has to leave her mother and Nicodranas behind. We get to see her grow from a tiny child to a precocious teenager, the air of loneliness following her until she meets The Traveler.
The art of JESTER LAVORRE is absolutely gorgeous. The Traveler has NEVER looked this good in his life and I want to draw him myself after flipping through this book. Jester too looks better than she ever has, the colors are bright and full of whimsy, a perfect fit for the title character.
I love the way her mother, Marion, also gets some nice page time. The character design and concept of The Ruby of the Sea has always interested me and I almost wish we could get a "side quest" comic just about her. It was also fun to see the incident that got Jester thrown out of Nicodranas and how it tied into what she had gotten herself into earlier in the book. Funny how those things always seem to be connected when Matthew Mercer is involved.
Now normally I'm not a huge Jester fan in the campaign. I love Laura but Jester is A LOT to deal with and a level of chaos that I personally find to be a bit much. That said, this comic made me appreciate her a lot more. There is sadness and loneliness to Jester's past that explains a lot of her mannerisms and while I still don't really love her I can appreciate her better after having seen it in comic form. Sam Magg's FAN GIRL'S GUIDE TO THE GALAXY was my first introduction into her as a writer and though I haven't read much of her work she did a great job with Jester.
While JESTER LAVORRE doesn't leave us with the same poignancy Caleb's book did, it was a nice look into Jester's past and her beginnings with the Traveler. It made me want books like this for some of the NPCs like Jesters mom and The Traveler. A Traveler comic? Sign me up!
Whose comic are you looking forward to coming up? Fjord? Yasha? Nott? Molly? Share your pick in the comments below.
From my shelf to yours,
Erin
Related Posts