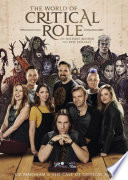 The World of Critical Role
by
Liz Marsham
,
Cast of Critical Role
Published by
Ten Speed Press
on October 20, 2020
Genres:
Games & Activities / Role Playing & Fantasy
Pages:
320
NEW YORK TIMES BESTSELLER * Dive deep into the history of the world's most popular fantasy RPG livestream with the cast of Critical Role in this definitive guide featuring never-before-seen illustrations and photos.

From its unassuming beginnings as a casual home game between friends to the role-playing phenomenon it is today, Critical Role has become the stuff of legend. These pages chronicle how a circle of friends who all happen to be talented voice actors built the most-watched tabletop role-playing livestream of all time.

Discover dazzling new illustrations and richly written insights into the locations, characters, and adventures featured in the hundreds of episodes across Critical Role's two campaigns, Vox Machina and the Mighty Nein. Go behind the scenes with archival photos and exclusive interviews with Dungeon Master Matt Mercer and the entire Critical Role cast as they explore their characters' most triumphant moments and darkest hours. And celebrate the massive community of Critters who support and expand the show's world through a highlighted tour of the crafts, cosplay, and art they create every day.

Featuring a foreword from Felicia Day, lush illustrations, and the inside story you won't find anywhere else, this book is your indispensable guide to Critical Role. The adventure begins!

4 Nuts
In honor of my full blown obsession (Critical Role) and the first episode of Exandria Unlimited: Calamity on Thursday get ready to be bombarded with Critical Role content. Sorry, not sorry. Welcome to THE WORLD OF CRITICAL ROLE, part guidebook and part behind the scenes look at the show.
This is one of my favorite books Critical Role has ever released. Mostly because the photographs inside are absolutely gorgeous. The book tells the story of how the show came about, the home game and everything since. It also features information about each cast member, each of their characters up through the 2nd campaign, as well as guest characters and beloved NPCs.
As I said earlier, the photos are where this book really shines. Each cast member has a beautiful photo at the game table to introduce their chapter that I would have loved them to make into posters. The rest of their chapter is full of photos of them that are relevant to the characters, my particular favorite being Taliesin Jaffe posing with his character Mollymauk's swords. The book is also full of old pictures from the home game, where the cast looks so young and baby faced you can hardly believe its the same people.
There is also an audio edition of the book, but I recommend it more as an addition rather than an alternative because you miss out on all the beautiful visuals. Liz Marsham's text is preformed my voice actor, director, friend of the show, and guest cast member Mary Elizabeth McGlynn (Zahra). As a trained voice actor I don't think it needs to be said that Mary does a fantastic job. She knows what she's doing, so much that they chose her as their voice director for their cartoon adaptation.
I love this book and I go back to it often, flipping through it randomly too look at pictures or to read the characters on each of my favorite cast members. It's a good primer for new fans but an even better addition from someone who knows and loves the show.
Are you a Critter? Who is your favorite cast member? Guest star? Share yours in the comments.
From my shelf to yours,
Erin
Related Posts