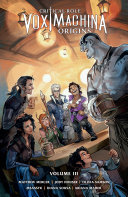 Critical Role: Vox Machina Origins Volume III
by
Jody Houser
Published by
Dark Horse Comics
on October 25, 2022
Genres:
Comics & Graphic Novels / Fantasy
,
Comics & Graphic Novels / Media Tie-In
,
Games & Activities / Role Playing & Fantasy
Pages:
152
The third series of the celebrated Vox Machina Origins comics, from Critical Role and Dark Horse!

Vox Machina enjoy a week in Westruun's lap of luxury leading up to the Winter's Crest Festival. But that costs coin, which has a bad habit of running out, so they join an underground fighting ring and bash their way to cash. Unfortunately, their ring-fighting turns out to be just a warm-up for a cold reality when a mysterious attack on Winter's Crest festivities leaves the whole town magically frozen—including one of their own. Vox Machina will have to save the day again, against a much bigger foe than they first realized!

Prepare for more misadventure with series III of Critical Role: Vox Machina Origins, from the New York Times bestselling team of Jody Houser (Orphan Black, Stranger Things), Olivia Samson, MSASSYK (Isola, Gotham Academy), Diana Sousa (Isola, Crowded) and Ariana Maher (James Bond, Xena)!

Collects Critical Role: Vox Machina Origins III #1–#6.

5 Nuts
The last issue of VOX MACHINA ORIGINS VOLUME 3 has finally released and though the trade collection isn't out yet we finally have a full story arc to look through before its released in the Fall. So, Volume 3, as Ashton would say, "What the Fuck's Up With That?"
Like the previous volume, Vol 3 is helmed by comic badass Jody Houser. With all the main characters finally introduced, Jody has all the page space to dig into awesome story beats and develop this group of rag tag idiots into the heroes they are destined to become. She gets right down to it, introducing beloved NPCs as she goes and finally telling the story of Vox Machina's very first dragon.
This has been one of my favorite interactions in the comics thus far. White dragons are some of my favorite draconic beasts and the Chroma Conclave's white dragon Vorugal was not nearly as menacing and clever as I wanted him to be. Skysunder on the other hand, while not particularly difficult to defeat, seemed much more worrying as far as agency and their own cleverness. Vorugal seemed much more like a peon rather than a threat of his own.
Volume 3 starts to weave in many more threads from what we have come to know as Vox Machina's story. The first meeting with Syldor, the issues in Emon with certain council members and Uriel's behavior, missing children, it all starts here. I can't wait to see where they lead and actually see it happen rather than in hints or the cast members retelling them.
This volume has been my favorite in the comics thus far. I can't wait to see how it all eventually comes together to meet up with the beginning of the streamed part of the campaign. But they have many more stories to tell before that happens. Will they adapt the stream into comic form as well? They certainly have plenty of Vox Machina content to use.
Whose your favorite Vox Machina NPC? Share yours in the comments.
From my shelf to yours,
Erin
Related Posts