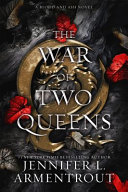 The War of Two Queens
by
Jennifer L. Armentrout
Published by
Blue Box Press
on March 15, 2022
Genres:
FICTION / Romance / Fantasy
,
FICTION / Romance / Paranormal / General
,
FICTION / Romance / Paranormal / Vampires
Pages:
623
Casteel Da'Neer knows all too well that very few are as cunning or vicious as the Blood Queen, but no one, not even him, could've prepared for the staggering revelations. The magnitude of what the Blood Queen has done is almost unthinkable. Nothing will stop Poppy from freeing her King and destroying everything the Blood Crown stands for. With the strength of the Primal of Life's guards behind her, and the support of the wolven, Poppy must convince the Atlantian generals to make war her way, because there can be no retreat this time. Not if she has any hope of building a future where both kingdoms can reside in peace. Together, Poppy and Casteel must embrace traditions old and new to safeguard those they hold dear, to protect those who cannot defend themselves. But war is only the beginning. Ancient primal powers have already stirred, revealing the horror of what began eons ago. To end what the Blood Queen has begun, Poppy might have to become what she has been prophesied to be, what she fears the most.

5 Nuts
Oh yes, this is exactly what I wanted from THE WAR OF TWO QUEENS. Every emotion is high octane, every battle feels visceral, and every moment is one to turn over and analyze for clues. Maybe its from years of being a victim of MAAS Destruction but I am usually very good at predicting these types of stories. And I did, a lot of it, but there was still plenty for her to turn on me and give a good shock.
JLA's books are beyond intense, faster paced than most at times. I love that about them, they come out fast and are over just as fast leaving you wanting more. But this one slows down just a hair, just enough to really hammer in every moment for her characters' pain and I loved every second. I don't feel like we were running at break neck speed through the story like we usually do, but I also never felt bogged down with info dump like what can sometimes happen in a Maas book.
One of my favorite things about series like this is how you think you know who your big bad is until you really don't. You find out that the person you thought was an endgame villain isn't the all powerful baddie you think they are. Someone out there is worse. It's kind of a weird parallel with life, in that way. This book feels like such a D&D moment, when you think you've destroyed your mortal enemy only to look around and realize they were only the beginning of a bigger arc. It's my favorite storytelling device and it's done beautifully here.
WAR OF TWO QUEENS has everything. Yes, everything. Yes, even that thing you know has been coming because it's been teased for at least 2 books now. Yes. THAT thing. You know the one. Yes, that's in there. Big yay, I can't wait to buy prints of all the fan art.

And that's all I'm going to say about That. Yes, THAT. No we're not talking about the stupid drama that came about in the fandom. That shit's stupid. Ah hem.  *side eye*
Anyway.
I can't wait for the next book, as well as more prequel content. I just want to live in this world. We're at the point in the series where almost anything I could say would be a spoiler so I think I'm just going to leave it at that. Hey JLA, more soon? Please? Thank you!
Who is your favorite FBAA character? Share yours in the comments.
From my shelf to yours,
Erin
Related Posts