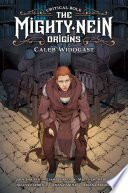 Critical Role: The Mighty Nein Origins--Caleb Widogast
by
Jody Houser
Published by
Dark Horse Comics
on February 8, 2022
Genres:
Comics & Graphic Novels / Fantasy
,
Comics & Graphic Novels / Media Tie-In
,
Games & Activities / Role Playing & Fantasy
Pages:
56
Vox Machina Origins writer Jody Houser joins fan-favorite artist Selina Espiritu, and Matthew Mercer and Liam O'Brian to reveal Caleb's troubled past in this all-new hardcover graphic novel! Fans of Critical Role won't want to miss this newest edition to their Mighty Nein library!

A fire can keep you warm...or it can consume you.

When Bren Aldric Ermendrud was chosen to attend the Soltryce Academy, everyone knew he would have an important future in service to the Empire. But nobody--least of all Bren himself--could foresee the cruelty he endured, and the ways in which it would break and remake him. Witness the events that transform Bren into the Mighty Nein's Caleb Widogast, and how they'll inform the path he'll take in the future.

5 Nuts
Oh man, Caleb my poor boy.
Caleb Widogast is perhaps one of the saddest characters with one of the darkest backstories in Critical Role, or at least he was before Campaign 3. The Sad Wizard is a fan favorite among the denizens of "Critical Role Land" and perhaps one of Liam O'Brien's most dramatically tragic characters. And for Liam, that's saying something.
Being a comics fan and a Critical Role fan, these lovely character centered comic collections are one of my favorite things Critical Role is doing to enhance their brand's world. What better way to do a lore drop than in the form of comics written by your friends? This particular book is written by Jody Houser who was a guest of Taliesin Jaffe's Wednesday Club comic show on Geek and Sundry, one of the writers for Vox Machina Origins, the writer of the future Mollymauk comic, and a fantastic comic book writer of non CR books (seriously check her out, she's awesome). With help from Liam himself and the DM Matthew Mercer, they've created a heart wrenching slice of Caleb's beginnings.
I would call Caleb's origins traumatic but I don't think even that word is enough. However it is worth mentioning in that the content of this book is probably going to be triggering for some. Abuse, manipulation, murder, and violence are all par for the course here so beware if this kind of content might trigger you.
I loved Caleb's book. I would love for CR to expand this prequel into a full YA novel like they did with KITH AND KIN and are doing with the release of NINE EYES OF LUCIEN come November. I love these little slice of life prequels that CR is doing, be it comic book form or YA novel.
I feel like the content here would be out of place for a new reader, having no basis for why this story is being told or its place in the larger story. Caleb's story benefits from the foresight of what is to come for him and I wonder if it would seem odd to an outsider as to why we are bothering to tell this story. But the beautiful art and wonderful storytelling may be the hook someone needs to explore the larger universe. I'm just not sure this is a great starting point. But for an established fan this book is a must!
Who is your favorite Mighty Nein character? Share yours in the comments.
From my shelf to yours,
Erin
Related Posts