As some of you know, my house has an actual library inside of it. All together, counting the other shelves strewn about the house, we have 13 bookcases. And almost all of them are full to the point of double stacking. Eventually we will be getting floor to ceiling built-ins in the library but until then, these are the shelves and how they are organized.
I organize our shelves by age group (Adult, YA, Middle Grade), then by genre (fantasy, sci-fi, contemporary), and finally by topic (high fantasy, urban fantasy, mythology, etc). I know, my system is a little nuts, it's also a bit out of whack at the moment because of the overflow. So, let's begin!
ARCs and Audiobooks Shelf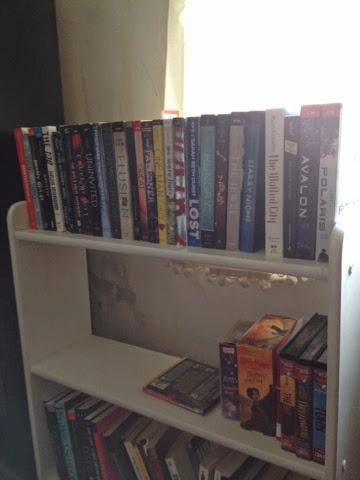 This is my ARC section, arranged by release month/year. This section is for ARCs that don't have a finished copy buddy in the same series. The ones that do get to live with their series on the appropriate shelf. Here's some of the honorable mentions from this shelf:
Avalon and Polaris by Mindee Arnett
The Jewel by Amy Ewing
Cruel Beauty by Rosamund Hodge
The Fire Wish by Amber Lough
A few of these books are signed from various events I've gotten to go to.
Beneath that is my audiobook shelves where my small collection of audiobooks live. One of my favorites is the British cassette version of Harry Potter and the Philosopher's Stone read by Stephen Fry that I got used (and missing a tape) at a thrift store.
The YA Fantasy Shelf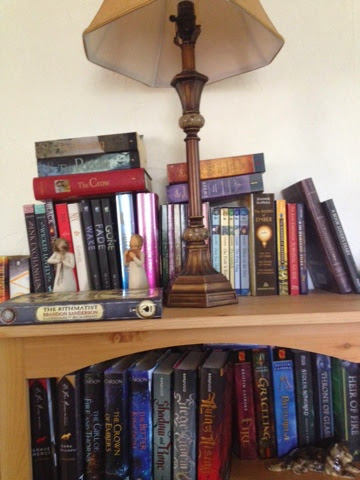 The top of my YA fantasy shelf is mostly  bind-ups and boxed sets with a couple of random series that I have no other place for. Yay, overflow! Some of these may end up in the giveaway box sooner rather than later. Hiding out behind the lamp is my Chronicles of Narnia boxed set. It used to belong to my mom but I sort of commandeered it.
Other honorable mentions:
The Dark is Rising Sequence by Susan Cooper
The Shadowhunter's Codex by Cassandra Clare
The Books of Ember Bind-up
All of my Rick Riordan companions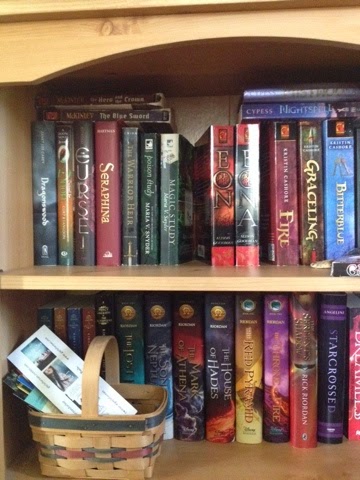 The top shelf of my fantasy shelf is mostly high fantasy with some historical fantasy thrown in. Also, dragons! This shelf is double stacked so this the the view of what is hanging out in the back. Notice the empty spot for a copy of Maria V. Snyder's Fire Study.
Honorable mentions:
*signed* Winner's Curse
The Hero and the Crown by Robin McKinley (I was named after the MC)
The Graceling Trilogy by Kristin Cashore
Destined for Doon by Carey Corp and Lorie Langdon
This is what the top shelf looks like with everything in place. As you can see I'm running out of space very quickly. High/Epic Fantasy is my favorite genre, as you will see when I show you the adult fantasy section.
Honorable mentions:
His Fair Assassins #1 (Grave Mercy) and #2 (Dark Triumph) by Robin LaFevers
The Girl of Fire and Thorns Trilogy by Rae Carson 
The Grisha Trilogy by Leigh Bardugo
The second shelf is where all of the mythology based books live. Obviously most of it is taken up by the land of Rick Riordan, aka The Percy Jackson, Heroes of Olympus, and Kane Chronicles books.
Honorable mentions:
British edition The Serpent's Shadow by Rick Riordan
British edition Dreamless by Josephine Angelini
ARC of Goddess by Josephine Angelini
The back layer of this shelf is mostly random fantasy, featuring everything from fairytale retellings to grim reapers to more dragons. This is also where the majority of my Holly Black collection lives (there's more in the front half).
Honorable mentions:
ARC of Slayers 2 by CJ Hill which hangs out here with the finished first book.
*Signed* Dangerous Creatures by Kami Garcia and Margaret Stohl
The original Name of the Star by Maureen Johnson hardcover.
The Daughter of Smoke and Bone and (hiding) Days of Blood and Starlight
The front stack of the random fantasy/paranormal shelf has a lot of Holly Black and witchy sort of books. You can see a little sliver of Half Bad by Sally Green hanging out in the corner.
Honorable mentions:
Mortal Danger by Ann Aguirre
The Raven Boys by Maggie Stiefvater
*signed* Iron Trial by Cassandra Clare and Holly Black
The bottom shelf is where the Cassandra Clare and Libba Bray books live with a few other guys that I have no other place for. I really need a new spot for that signed Bruiser, he doesn't belong down here. As you can see, I've got a nice open spot ready for a paperback of Clockwork Princess.
Dystopian Section
In my house, dystopian gets its own bookcase to itself and has its own kind of odd organization. The very bottom shelf is for dystopian series of which I only have one book. I know, very specific. The next shelf up is for dystopian series that I own two or more books from but not the completed series. Usually that's only two books anyway because dystopians love their trilogies.
Honorable mentions:
(Bottom shelf)
*Signed* The Murder Complex 
*Signed and Personalized* Not a Drop to Drink by Mindy McGinnis
(Middle Shelf)
*Signed and Personalized* Proxy and Guardian by Alex London
*Signed and Personalized* The Testing and Independent Study by Joelle Charbonneu
*Signed and Personalized* Unwind by Neal Shusterman
These top two shelves are for complete dystopian series, bind-ups, and stand alones. Also one of my 7,000 cat statues (you'll see a lot of these).
Honorable mentions:
The entire Shadow Children series by Margaret Peterson Haddix
*Signed* First edition of Reached by Ally Condie
British editions of the first 2 + prequel in the Maze Runner series.
Foreign Editions and Historical Fiction
Because of their small numbers, these two get shelved together above the DVD cabinet. I have British editions of books I already have American copies of, German editions, and a single book in Finnish.
Honorable mentions:
*Signed* Finnish If I Stay by Gayle Foreman
*Signed* German Anna.. and Lola… by Stephanie Perkins
British Tithe by Holly Black
*signed* Fever 1793 by Laurie Halse Anderson
Harry Potter and John Green
I'm not sure why these ended up together here but I had my John Green boxed set hanging out above my contemporary section. There was nowhere else for Harry to live, with his multiple editions and side books so here they are.
Honorable mentions:
British Prisoner of Azkaban and Goblet of Fire
First Edition Chamber of Secrets
*Signed* Looking for Alaska and TFIOS
*Signed* Let It Snow
Multitudes of Harry Potter side books
Contemporary Shelf and Vampires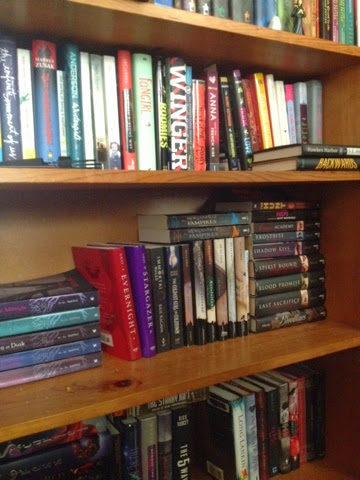 The top shelf is where all of my contemporary books hang out. It's not very big because I don't like a lot of contemporary but about half of them are signed so who's complaining. I have two editions of Anna and the French Kiss paperbacks, both covers. So really, including the German one, I have three copies of a book I've never read. Beyond the left hand border of the photo are my Lauren Myracle books, all signed.
Honorable mention:
*Signed and Personalized* Six Months Later by Natalie D. Richards. This woman is amazing and I have such great memories of meeting her in Hudson this summer.
The vampire shelf is exactly what is sounds like, where all of the vampires books have their little vampire rave. There's everything from Melissa de la Cruz's Blue Bloods to Vampire Academy to Scott Westerfeld's Peeps.
Honorable mention:
Coldest Girl in Cold Town by Holly Black
Science Fiction and Horror
If we don't could the dystopias, this is what is left of my YA sci fi. Horror hangs out on the other side, sort of doing its own thing.
Honorable mention:
*Signed and Personalized* All Our Yesterdays  by Cristin Terrill
The Miss Peregrine's series (book one without dust jacket)
The Big Blue Shelf of Children's and Middle Grade
This shelf lives upstairs in my room next to my bed and its full of all the books I loved as a kid and some new middle grades I've gotten.
Honorable mentions:
The Bunnicula series by James Howe
The Hollow Earth Trilogy by John and Carole Barrowman
The Dark Materials Trilogy
The Magic Shop Quartet by Bruce Coville
The Artemis Fowl Series
So that's my YA section! Stay tuned (probably tomorrow) for my adult collection!
What looks most interesting to you? Share in the comments.
Keep Reading!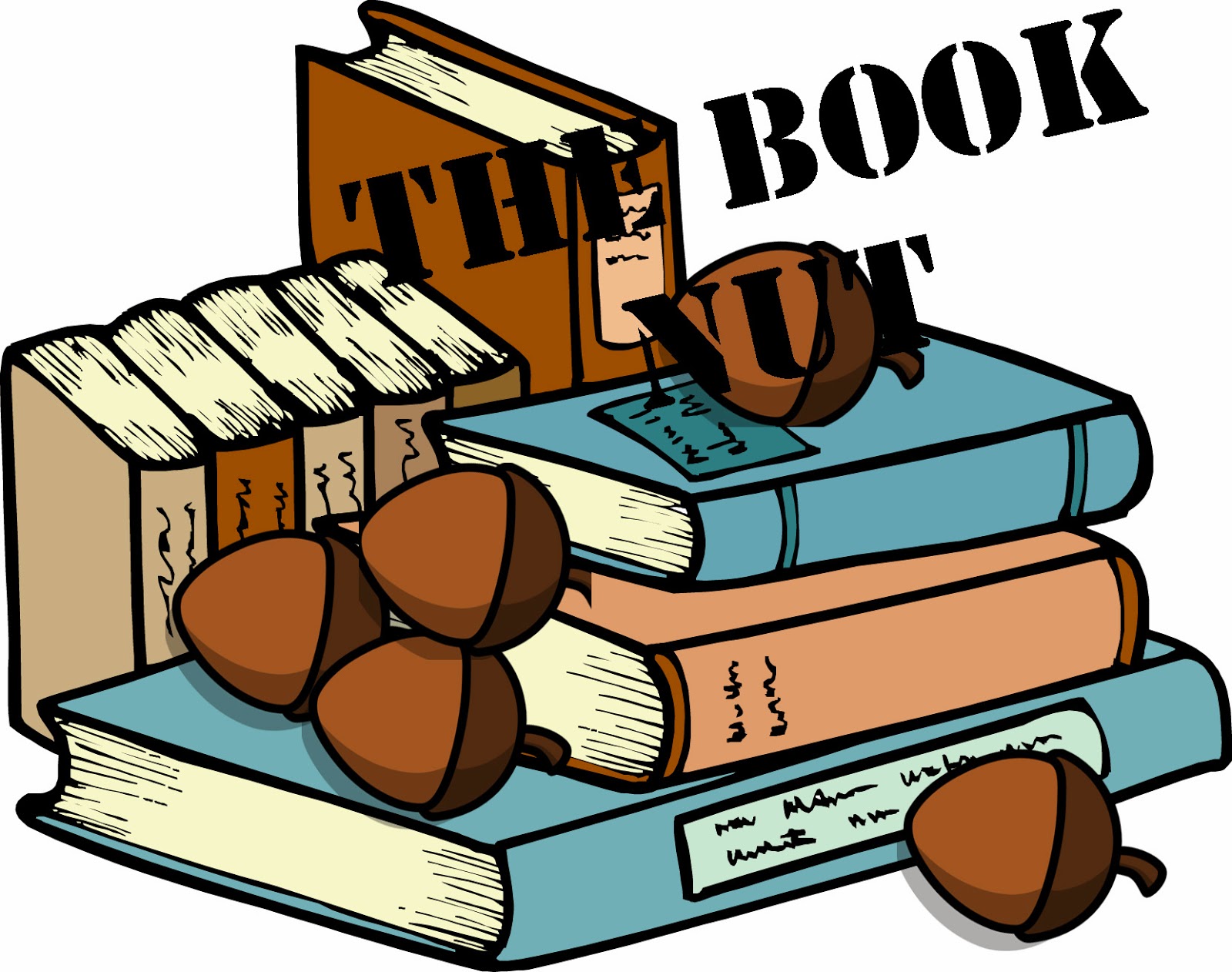 Related Posts