This morning I posted a poll on twitter about what I should post today. The option you all chose was "Something Personal" so here's my something personal.
Today I'm going to tell you my bookish name story.
I was adopted just after I was born. My adopted parents had all sorts of name ideas until they saw my red hair. Then all of those went out the window.
Years before my mom had read a book about a red head who fought dragons and an evil sorcerer to save her kingdom. This was that book.

The main character is Aerin-Sol, also known as Aerin Firehair. She's fiesty, she's ginger, and she can destroy you if you piss her off. Aerin is the norse spelling, while Erin harkens back to the Irish. And yeah, there's a lot of Irish in me. So when my mom saw my red hair her Sarahs and Rebeccas were driven from her mind (which is good, I mean Becky Becks? Kill me).
My dad still wanted Stephanie or Tiffany.
But my mom was firm. Erin was my name. Erin was who I was. And really, she was right.
When I was in middle school I read The Hero and the Crown. I met Aerin and I loved her. I felt like I was her. I could slay dragons, I could become a princess who wan't concerned with pretty dresses and manners. I was a tomboy with few friends, Aerin was me. I read that book a million times, shared it with my friends, even found myself a signed copy.
So that's my bookish name story. Do you have a bookish name story? Share it in the comments.
From my shelf to yours,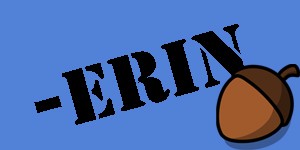 Related Posts