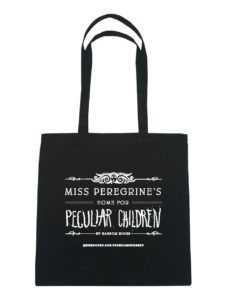 I've got something really exciting for you folks today. Thanks to the wonderful  people at Quirk Books I'm giving away a really cool bit of swag! It's a Miss Peregrine's Home for Peculiar Children tote bag!
Seen above.
Want one? Entering is easy! Leave a comment about why you love the series or, if you haven't yet started, why you want to read them!
You can get a bonus entry by commenting on another blog post as well!
And don't forget to enter Quirk's fan art contest for more Peculiar fun!
Unfortunately since I'm doing the shipping it will have to be US only.
May the odds be ever in your favor.

Related Posts