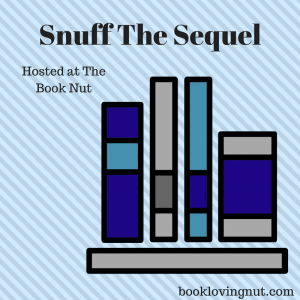 Welcome to Snuff the Sequel, a reading challenge designed to help you boot some of those pesky sequels off of your TBR! If you want to participate go check out the intro post here.
I have…quite a list of books I need to read to finish off series I own. Now keep in mind, this list is just made from the books I own. I figure I should finish those before I go on to finish other series that I've left undone. It's still an incredibly long list, and doesn't include any 2017 titles as this is a backlist challenge.
So, without further ado, the this of books in a series that I want to finish this year.
—
City of Fallen Angels, City of Lost Souls, City of Heavenly Fire, The Bane Chronicles, Tales from Shadowhunter Academy, and Lady Midnight by Cassandra Clare
Ruins by Dan Wells
Deliverance by CJ Redwine
Boundary by Heather Terell
Hollow City and Library of Souls by Ransom Riggs
Queen by Aimee Carter
Merciless II by Danielle Vega
Public Enemies and Infinite Risk, also Horde by Ann Aguirre
Carry On by Rainbow Rowell
Never Fade and In The Afterlight by Alexandra Bracken
Requiem by Lauren Oliver
Promised by Carragh O'Brien
The Essence and The Offering by Kimberly Derting
Stone in the Sky by Cecil Castellucci
Shadowlark by Meagan Spooner
Ice Like Fire by Sara Raasch
Blood Passage by Heather Demetrios
Curtsies and Conspiracies and Waistcoats and Weaponry by Gail Carriger
The Retribution of Mara Dyer by Michelle Hodkin
Crooked Kingdom by Leigh Bardugo
The King Slayer by Virginia Boedecker
A Gathering of Shadows by VE Schwab
Swan Riders by Erin Bow
Poisoned Blade by Kate Elliot
Crimson Bound and Bright Smoke Cold Fire by Rosamunde Hodge
Ignite and Endure by Sara B Larson
A Torch Against the Night by Sabaa Tahir
Shades of Doon and Forever Doon by Carey Corp and Lorie Langdon
Polaris by Mindee Arnett
The Suspicion at Sanditon by Carrie Bebris
Magician King and Magician's Land by Lev Grossman
The Black Key by Amy Ewing
It's a looooooooong list. 47 books in total. I would ideally like to get through the whole thing this year but I'd settle for 2/3.
Goal: 47 books
Side Challenge- Novellas:
Crown and the Arrow & Mirror and the Maze by Renee Ahdieh
Little Knife and Witch of Duva by Leigh Bardugo
Isolation by Dan Wells
Night Flower by Kate Elliot
What are your goals for this challenge? Leave a comment and also share your own post!
From your shelf to mine,
Erin
Related Posts