Good Afternoon my friends!
I don't know about you but I am THE WORST at finishing series. I'll read the first book, maybe the second, and then when the third comes out I'll get it and never finish the series. It's the worst habit and it needs to stop. With this in mind I'm starting the Snuff the Sequel Reading Challenge.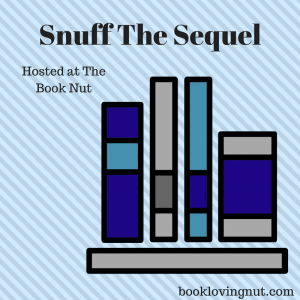 This challenge will last til the end of the year. Its goal? To help  us finish the unread sequels on our shelves!
Books that count:
Any book in a series after the first. Sequels, companions, continuations, whatever.
Since this challenge is more for backlist titles, no 2017 releases will count.
Post about your own goals for the challenge, using the graphic above and linking back to either this post or the blog page featuring the challenge.
Post the link in the comments so others can check it out.
Occasionally I will post my own updates about how my challenge is coming, feel free to do the same and share your progress or go and comment on other people's posts.
The Novella Challenge:
If you don't want to participate in the larger challenge, I have a side challenge for you! You know all of those novellas and short stories many publishers release along side a series? How many of those haven't you read yet? Make it happen now. They're quick, easy reads that can bump up your count for the year! And you know those backstories are usually worth it.
Write a post with your goal and link to it in the comments.
LINK UP IN THE COMMENTS! (Our linky is misbehaving)
So join me in cutting down on those TBRs, let's finish some series!
Stay tuned for my own list of StS titles I'll be trying to read this year.
What series are you looking forward to finishing? Leave a comment and share your own StS posts!
Related Posts