There are a lot of posts and a lot of videos detailing what everyone is excited to see in 2014. This post is no different however, I hope some of the books on this list are ones that aren't as common. Many will be the same because, let's be honest, a lot of great books are coming out this year. So let's get started with a few books that don't have covers yet.
Mortal Heart (His Fair Assassin #3) by Robin LaFevers- Expected Fall 2014. I love this series. I still have not gotten my hands on Dark Triumph but I trust the opinions of the people I know who've read it.
Heir of Fire (Throne of Glass #3) by Sarah J. Maas- Expected 2014. Oh man, I need to pick up these books. I've read a couple of the novellas and loved them. I've heard so many wonderful wonderful things about this series!
Infinite Sea by Rick Yancey (5th Wave #2)- September 16, 2014. Yes please! Actually, I need to pick up more of Rick Yancey's books but I'm super excited for this one. The 5th Wave took booktube and bloggers by storm and if book 2 is anything like the first then Rick Yancey will do it again.
Blood of Olympus (Heroes of Olympus #5) by Rick Riordan- October 7, 2014. Oh dear lord I need this book in my hands! I have a Rick Riordan shelf with an empty spot just waiting for this book. This is an absolute must have for mythology lovers.
City of Heavenly Fire (Mortal Instruments #6) by Cassandra Clare- May 27, 2014. I don't know how many of your know this but I wrote my English undergrad capstone paper on the first three books in this series (for anyone who cares, that paper got me an A in that class). I capital-L-Love this series. I am waiting to read books 4 and 5 until closer to the May release date so I can marathon them together. Do you know how hard it is to wait? I must have this book!
Ruin and Rising (Grisha #3) by Leigh Bardugo- June 3, 2014. I still don't have Siege and Storm because my copy of Shadow and Bone is in paperback and I have an obsession with matching sets, formats, and covers. Sometimes I can let that go (temporarily until I get annoyed by the not matching and go search like a madwoman for the matching book. For instance I still can't find an original cover hardback of the very first Artemis Fowl book to replace my paperback and it drives me nuts!). End rant. Anyway, I may not wait when the new book comes out and just get the whole set in hardcover. We shall see.
Captive (Blackcoat Rebellion #2) by Aimee Carter- Expected 2014. Pawn is at the top of my non-ARC TBR pile, I am so excited! As soon as I get through my ARCs for this month, Pawn will be in my hands. If I like it as much as I think I might then I will be drooling for this book!
Now for the books that already have covers.
Ignite Me (Shatter Me #3) by Tahereh Mafi- February 4, 2014. The only thing about these books that bothers me is the cover change. I have the original hardcover of Shatter Me and then they changed the freaking covers for books 2 and 3! Granted, yes, they changed it for the better but now my covers don't match! Grumble grumble. I'll get over it. Maybe. Probably not. Since I just finally ordered a copy of Unravel Me (I'm a bad book lover, I know) I'm extremely excited for the release of the next one!
Cress (The Lunar Chronicles #3) by Marissa Meyer- February 4, 2014. This is going to be an expensive day in February! But look at that cover, it's my favorite so far! This is another one where I have the paperback of the first one so I'll probably end up buying hardcover replacements so they match. I don't have Scarlet yet so that's on the list as well.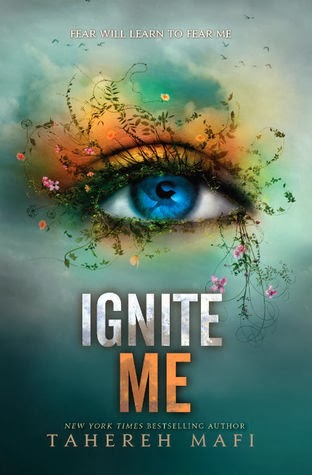 Uninvited (Uninvited #1) by Sophie Jordan- January 28, 2014. I really wanted an ARC of this but it was not to be. Still, I will be buying a finished copy. It's about a girl who is told that her genetic test has predicted that she will become a murderer and is ostracized for it. Come on guys! How cool is that?
Cruel Beauty by Rosamund Hodge- January 28, 2014. I actually have the ARC for this book and it's at the top of my pile. It is a retelling of Beauty and the Beast where the main character has been training to kill the Beast character all her life. Retellings are popular right now and I really hope it's as good as it sounds. If it is, I will get the finished copy as well.
The Winner's Curse by Maria Rutkoski- March 4, 2014. This is one of those books I've seen that I think could be really good or really bad. Either way it's one that I really want to review.
Defy by Sara B. Larson- January 7, 2014. I've heard good things and I've heard very bad things about this book. In this case I think this may be one of those books that I'll need to make my own opinion on because there are so many contrasting thoughts. Also, I love the cover.
Avalon (Avalon #1) by Mindee Arnett- January 21, 2014. This is another book that I was fortunate enough to get the ARC for, I can't wait to get to it in the next week or so. My pile this month is crazy awesome and I'm so grateful to the publishers. Check this one out, it's going to be cool.
Death Sworn (Death Sworn #1) by Leah Cypess- March 4, 2014. I have a couple of Leah Cypess' other books and I'm really stoked for this one. I know, I'm really stoked for all of these. But that's why they're on this list. Magic and assassins, yes please!
Hollow City (Miss Peregrine's Home for Peculiar Children #2) by Ransom Riggs- January 14, 2014. I think this one is kind of a no brainer for most people who have read the first book. I found a lovely used copy of book one (sans the dust jacket) at a used bookstore and it kindled my excitement for this series!
Ruins (Partials #3) by Dan Wells- March 11, 2014. I want to marathon this series when this book comes out. I've heard so much about it that I just have to get to it and go with it.
Lair of Dreams (Diviners #2) by Libba Bray- August 5, 2014. I have to talk about the cover change here. I hate it. I bugs me. The cover for the first book was gorgeous, even under the dust jacket. Why the change? It's unnecessary. But I still want to read the book.
The Taking (Taking #1) by Kimberly Derting- April 29, 2014. April is my birthday month so I may buy this book as a gift to myself. I love Kimberly Derting so much and I was stoked to hear about a new series! Gimme gimme gimme!
Infinite (Newsoul #3) by Jodi Meadows- January 28, 2014. I'm going to buy this one and Asunder together because I'll be able to marathon the rest of the series. That seems to be the theme of 2014, marathoning series. This series, these covers! I can't handle it. I have to know!
Rebel (Reboot #2) by Amy Tintera- May 13, 2014. Oh freaking my, there's a sequel guys! I'm bouncing just thinking about it. I would fill my shelves with many books like this. As I go through this list, I get more and more excited for each and every book. I'm going to have no money by the end of this year but it will totally be worth it.
Three (Article 5 #3) by Kristen Simmons- February 11, 2014. I will be posting a review of the first book in this series very soon but I will say I expect the next books to be better. This series has a lot of potential and I'm interested to see where it goes. If I'm wrong that it will get better? Well I'll be disappointed but it happens.
Promise of Shadows by Justina Ireland- March 11, 2014. I love mythology. I've been obsessed with it since I was a kid and reading mythology books instead of my textbook in class. Also I have a thing for books about assassins. This book has both and I want it in my hands right now. This book will be mine!
There are a ton of books that I'm looking forward to reading this year and I'm so excited to get some more content going on the blog. What books are you guys looking forward to? What books should I read this year besides the ones on this list? I'm sure there are plenty that aren't on my list so let me know in the comments. Let's have a conversation!
Keep reading, folks!
The Book Nut
Related Posts