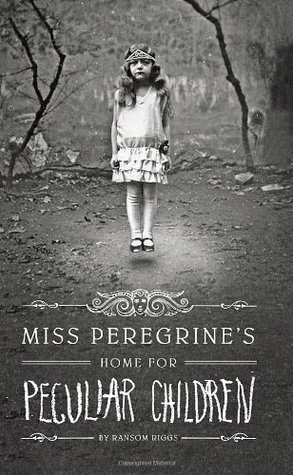 Miss Peregrine's Home for Peculiar Children (Miss Peregrine's Children #1) by Ransom Riggs


Release Date: June 7, 2011
Publisher: Quirk Books
352 Pages
Received: Used from Goodwill 
Format: Hardcover, no dust jacket (it kills me that it's missing, trust me).


Rating: 

5 Stars!
Description: 
A mysterious island. An abandoned orphanage. A strange collection of very curious photographs.
It all waits to be discovered in Miss Peregrine's Home for Peculiar Children, an unforgettable novel that mixes fiction and photography in a thrilling reading experience. As our story opens, a horrific family tragedy sets sixteen-year-old Jacob journeying to a remote island off the coast of Wales, where he discovers the crumbling ruins of Miss Peregrine's Home for Peculiar Children. As Jacob explores its abandoned bedrooms and hallways, it becomes clear that the children were more than just peculiar. They may have been dangerous. They may have been quarantined on a deserted island for good reason. And somehow—impossible though it seems—they may still be alive.
A spine-tingling fantasy illustrated with haunting vintage photography, Miss Peregrine's Home for Peculiar Children will delight adults, teens, and anyone who relishes an adventure in the shadows.
Review: If I had to describe my feelings on this book with one gif, it would probably be this one…
Also it makes me want to do a little dance too, like one of Benedict Cumberbatch's awkwardly adorable ones. Is that weird? Might be, but I don't care. It took me a very long time to succumb to the hype and read this book and thank the book gods, I did! This book has earned every positive review it has received. It is just as good as everyone says it is and more. I can't say enough good things about it.
I love creepy things, and boy does this book make itself a little nest at the top of my list of awesome creepy things. The pictures in this book, which are part of the reason for the the above gif, give me the biggest case of "THAT'S NOT OK!" I've had since I signed up for tumblr. In the good way. In the "I shouldn't be ok with how creeped out I am" way. Maybe it tells you all how touched in the head I am that I enjoy being creeped out that way but I can't say I regret it. I loved every minute.
I am fascinated by Jacob's grandfather and his past, I will say no more than that on this topic for fear of spoiling those who, like me, put off reading this book for so long. Seriously guys, it's time to break down and read it, it will be worth it. On the other hand I'm glad I waited until book two was released so I could immediately get on amazon and order it as soon as I finished the first one. I can't wait for it to get here so I can find out what happens next and maybe even learn a bit more about the grandfather.
The peculiar children are all excellently written and intriguing. I am so interested to see what kind of limits their powers have and hopefully meet a few more of them. The Hollows and wights are absolutely terrifying and holy crap, what more can they do to make them anymore disturbing. There's  a particularly creepy image when the Hollows are chasing the children that describes the creatures using their tongues that absolutely makes be shiver. I can't even describe how that passage freaked me out!
The one thing, though, that grabbed my heart was the writing style. I absolutely love how Ransom Riggs writes. I never have trouble seeing his characters saying the things they do or describing something the way that they do. I love the wit, sarcasm, and humor that come across in his writing, and though he's not the only author that makes me feel this way, he might be one of the best.
So in summation this book makes me…
And apparently speak in gifs! But honestly, if you can't speak in gifs of an adaptation of one of the most famous literary characters in history on a book blog, where can you?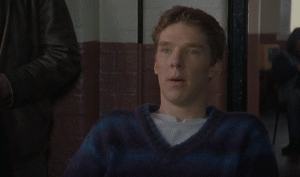 I'm done.
What did you think of Miss Peregrine's? Tell me in the comments.
Sorry for the Benedict gifs!
Keep Reading!
The Book Nut
Related Posts