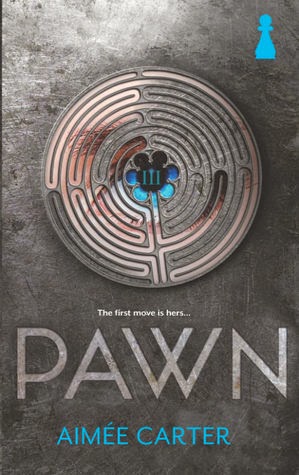 Pawn (Blackcoat Rebellion #1) by Aimee Carter


Release Date: November 26, 2013
Publisher: Harlequin TEEN
343 Pages
Received: Gift 
Format: Hardcover


Rating: 















Description: YOU CAN BE A VII IF YOU GIVE EVERYTHING.
For Kitty Doe, it seems like an easy choice. She can either spend her life as a III in misery, looked down upon by the higher ranks and forced to leave the people she loves, or she can become a VII and join the most powerful family in the country.
If she says yes, Kitty will be Masked – surgically transformed into Lila Hart, the Prime Minister's niece, who died under mysterious circumstances. As a member of the Hart family, she will be famous. She will be adored. And for the first time, she will matter.
There's only one catch. She must also stop the rebellion that Lila secretly fostered, the same one that got her killed, and one Kitty believes in. Faced with threats, conspiracies and a life that's not her own, she must decide which path to choose and learn how to become more than a pawn in a twisted game she's only beginning to understand.
Review: This book surprised me. This is a dystopian that is smart and knows what it wants to get from its audience. On the other hand, parts of it have been so over done that I can swear I've read that exact thing before. And in one part, I think I have. So let's talk about the elephant in the room.
I don't know how many of you have read the Shadow Children series by Margaret Peterson Haddix but if you have this may sound familiar. A rich teenager dies in a "skiing accident" after helping the resistance and their identity is given to a poor extra child in a world where you can only have so many kids. Ringing any bells, here? I couldn't believe how unbelievably close Kitty's story is to Luke's in these books. The only difference is how it ends! I would be lying if I said it wasn't distracting and a bit annoying that I had read this almost EXACT premise before. If you haven't read the Shadow Children series, go do it. You'll see precisely what I'm talking about and get an excellent series out of it as well!
Despite that major flaw I very much enjoyed this book. It was a very intriguing read outside of what was already very familiar and I got through it very quickly. Putting aside my annoyance, I'm actually very excited for the next book in this series. The characters are actually not as predictable as you would think and there was an excellent twist that I doubt very many people would expect. I'd recommend giving it a chance and making your own opinion.
What were your thoughts on Pawn? Leave a comment below.
Keep Reading!
The Book Nut
Coming Soon….
Dark Triumph Review
The Hit Review
Related Posts