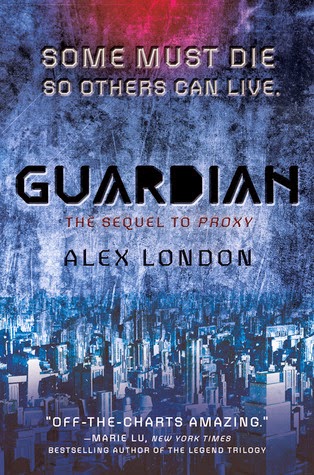 Guardian (Proxy #2) by Alex London


Release Date: May 29, 2014
Publisher: Philomel
352 Pages
Received: Originally borrowed ARC, then bought and signed early at TBF.
Format: ARC, Signed hardcover


Rating: 
May Contain Some Spoilers!
Description: The pulse-pounding sequel to Proxy! Inspired by The Whipping Boy and Feed, this adrenaline-fueled thriller will appeal to fans of The Hunger Games and Divergent.
In the new world led by the Rebooters, former Proxy Syd is the figurehead of the Revolution, beloved by some and hated by others. Liam, a seventeen-year-old Rebooter, is Syd's bodyguard and must protect him with his life. But armed Machinists aren't the only danger.
People are falling ill—their veins show through their skin, they find it hard to speak, and sores erupt all over their bodies. Guardians, the violent enforcers of the old system, are hit first, and the government does nothing to help. The old elites fall next, and in the face of an indifferent government, Syd decides it's up to him to find a cure . . . and what he discovers leaves him stunned.
This heart-stopping thriller is packed with action, adventure, and heroics. Guardian will leave you breathless until the final page.
A fast-paced, thrill-ride of novel full of non-stop action, heart-hammering suspense and true friendship—just as moving as it is exhilarating. Fans of Anthony Horowitz's Alex Rider series, James Dashner's Maze Runner, Patrick Ness's Chaos Walking series, and Marie Lu's Legend trilogy will be swept away by this story.
Review: This is not going to be a negative review, I promise, but, before I actually talk about the book I have to mention the giant blue elephant in the room. That being the awful cover change between book one and book two. Let's stop for a minute and have a look…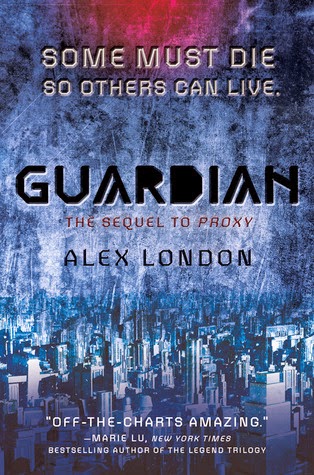 These are the hardback covers of the first book, Proxy, and the second book, Guardian.
These two books do not even come close to matching on my shelves. Publishers, quit messing with the flow of my shelves! Seriously, it drives me crazy! As of Saturday, my copies of these books are signed to me, there is no way in heaven or on earth that I am going to rebuy Proxy, especially because I haven't found this new cover in hardback editions, only paperbacks.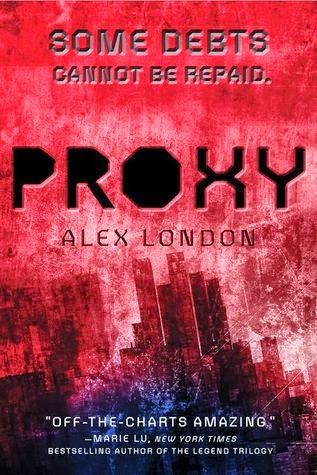 The new Proxy paperback cover.
I'm going to say it, I think the new Proxy cover is ugly. I hate the giant, weird, black lettering. I think it's tacky. However, it does come off better on the Guardian cover because the letters are smaller and the word is longer. The blue city background is much more interesting and detailed than this red thing above, I don't know what they were thinking. Still, this is a review of Guardian so let's continue.
We get a new character in this second book, called Liam, who is now my absolute favorite character in the series so far. He's mysterious, he's an amazing fighter, and he's vowed to protect Syd. Syd is still everything I liked about his character in the first book and starting to understand that changing the world is not as easy as it looks.
In his panel at TBF 2014, Alex London described the series like this: if Proxy is a post apocalyptic world, then Guardian is the post apocalyptic-post apocalyptic world. Everything changes again and there's more to deal with than just building a new government. Syd's actions all have consequences and I loved how the replacement of the old way doesn't guarantee a better way.
When I read a second book in a series I'm always wary of second book syndrome: where the second book doesn't hold up to the first because it's too busy setting up book three to have anything good happen. I didn't have to worry, there's a lot going down in this book and you'd better pay attention because I bet it'll come back again in the next one.
I loved this book and I'm happy I got to say that to Alex London himself. When a book that's successful like Proxy gets a sequel, it must be terrifying to wait for the release of that book. The author must wonder if the sequel will hold up to its predecessor. Happily, this one does! Check it out on May 29th!
Have you already read Guardians? Tell me your thoughts in the comments below!
Keep Reading!
The Book Nut
Related Posts