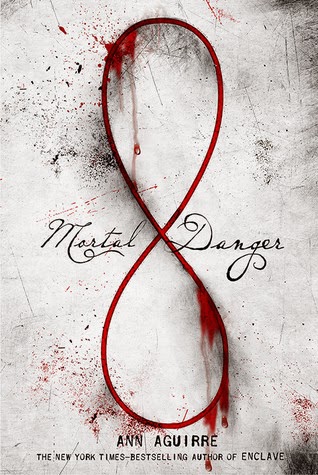 Mortal Danger (Immortal Game #1) by Ann Aguirre
Release Date: August 5, 2014
Publisher: Feiwel & Friends
384 Pages
Received: Netgalley
Format: E-ARC
Rating: 
*May contain mild spoilers*
Description: Revenge is a dish best served cold.
Edie Kramer has a score to settle with the beautiful people at Blackbriar Academy. Their cruelty drove her to the brink of despair, and four months ago, she couldn't imagine being strong enough to face her senior year. But thanks to a Faustian compact with the enigmatic Kian, she has the power to make the bullies pay. She's not supposed to think about Kian once the deal is done, but devastating pain burns behind his unearthly beauty, and he's impossible to forget.
In one short summer, her entire life changes, and she sweeps through Blackbriar, prepped to take the beautiful people down from the inside. A whisper here, a look there, and suddenly… bad things are happening. It's a heady rush, seeing her tormentors get what they deserve, but things that seem too good to be true usually are, and soon, the pranks and payback turns from delicious to deadly. Edie is alone in a world teeming with secrets and fiends lurking in the shadows. In this murky morass of devil's bargains, she isn't sure who—or what–she can trust. Not even her own mind…
Review: Holy crap did this book give me the heebee geebees. Here's a tip, don't read this book at night like I did. If you have an overactive imagination like I do you'll probably regret it. But I should start from the beginning.
The story begins with a lonely girl at the end of her rope ready to be done with it all until she makes a Faustian deal with a good looking guy named Kian. The first favor she asks for is what made me give the book 4 stars instead of 5. She asks for beauty.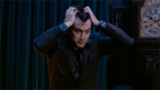 Oh good, so you're as shallow as the rest of the world, good to know girl-I-liked-before-this-moment. Thankfully she makes up for her very stereotypical favor by actually being a very cool person. Now I can understand why she would want this to be her first favor, I really can, but it's the principle of the thing. Beauty does not make everything better and I just can't get behind that kind of thinking. Not that I believe it's intentional.
Despite this, the rest of the book is excellent. The story is so very dark, which is why it should be read in the daytime or with every light on in the house. The creatures in this book are so creepy, think of every scary folk tale you've ever heard on, I bet at least one of those monsters are in here. Bloody Mary, anyone?
The romance in the story is very sweet but high drama. I admit it's a bit predictable but Kian has a lot of darkness in his own past that makes him a more more intriguing character than I would have originally thought. Edie really does need his support to get through this mess that he sorta got her into in the first place. I really enjoy the character interactions in this book, but I usually do where Ann Aguirre is concerned.
Guys, this is not a happy book. While the character gets some happy moments, most of them are tainted by something bad waiting just around the corner. If you like dark stories, like I do, then this is for you. If you don't do dark and creepy then I might stay away from this one, it's probably not for you. I love Ann Aguirre's work and she's easily one of my insta-buy authors, meaning I don't care what the book is about, if she wrote it I want it. I can't wait for the next book to continue the story.
Similar thought? Different thoughts? Share them in the comments.
Keep Reading!
Related Posts