The Hudson Library and Historical Society is a huge brick building in the town of Hudson, Ohio and the home to the 4th Annual Ohio Author Book Fair. Down the street and around the corner sits a wonderful little independent bookshop called the Learned Owl. This was the setting for a fantastic event full of awesome authors and tons of books.
I hadn't even known this event was going on until author Natalie D. Richards mentioned it on Twitter. "COME SEE US!" She replied to my tweet about wanting to go. "It'll be fun! Plus, I have candy so this is kind of a win/win." So of course I had to go! Not just for the candy (actually I'd forgotten about the whole candy thing, even while it was sitting right in front of me) but because they seemed like my kind of people.
We stopped off at the Learned Owl to pick up some of the books (they only had Mindy McGinnis' book but the other ones were being sold at the library so it was fine) and look around. Their wall of YA made me so excited and I commenced pointing out all of the cool books to my mom. After that we walked back to the library for the book fair.
So we took a turn about the adult authors room (you Janenites will understand the reference) and I picked up a Pride and Prejudice variation called Haunting Mr. Darcy. I have an entire shelf dedicated to what some people would call "Jane Austen fan fiction" so why not buy another? This is probably why I have an entire shelf dedicated to those kind of books. We browsed around a bit more but didn't buy anything else.
Finally we went into the YA/Children's author room where Mindy McGinnis (Not A Drop to Drink), Natalie D. Richards (Six Months Later), and Jody Casella (Thin Space) were all sitting together. I grabbed copies of Jody's and Natalie's books and introduced myself, all three remembered me from Twitter. They signed my books and we took some pictures.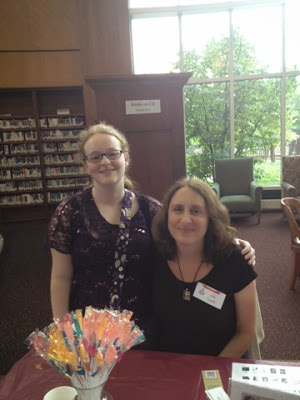 With Jody Casella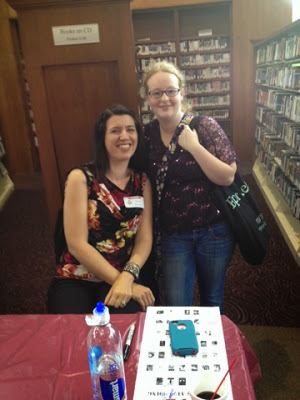 Natalie D. Richards and I, one goofy and one serious photo. My kind of picture taker. 🙂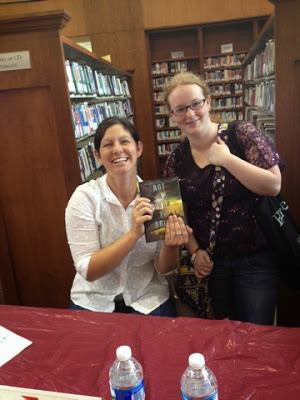 Mindy McGinnis and her book, Not A Drop to Drink.
We talked for quite a bit about a lot of book related subjects and even my mom got in on the conversation. Definitely my kind of people. This is why I love authors so much, other than the obvious fact that they write awesome stuff that I can read. I love that I can talk to them and they don't think I'm just a weird little nerd, not that there's anything wrong with that. Eventually, we said goodbye and went for a late lunch/early dinner. It was a really fun day, just as Natalie predicted. I wish that there had been more people there to see/talk to the authors but I didn't see very many.
So, as we do here in the book community, here is what I got today.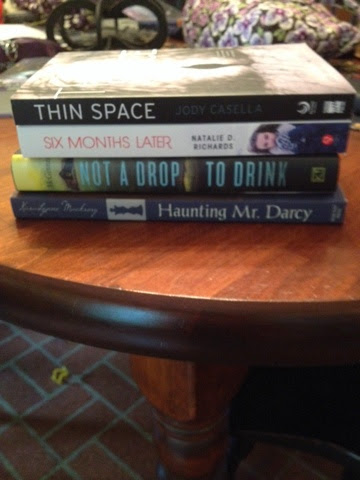 Thin Space by Jodi Casella
Six Months Later by Natalie D. Richards
Not A Drop To Drink by Mindy McGinnis
Haunting Mr. Darcy by KaraLynne Mackrory
And of course I asked them to sign my Nook cover, so here are the three new signatures and my pile of swag (also a really cool Jane Austen quote cookie, how cool is that?).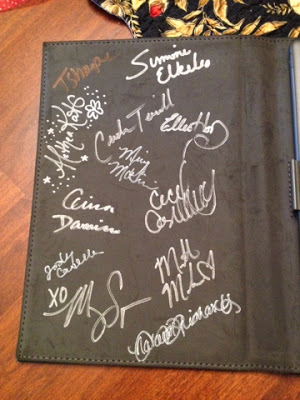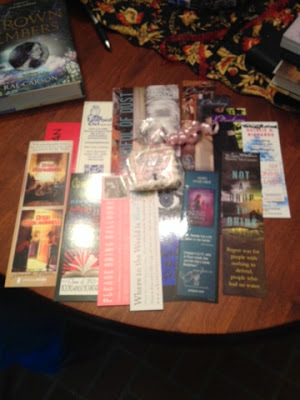 And the individual books….
Thin Space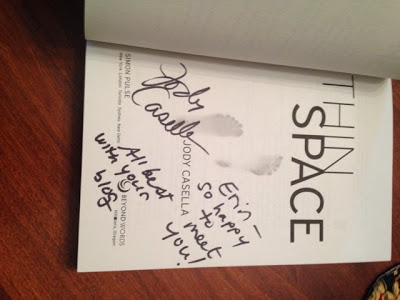 Six Months Later
Not A Drop to Drink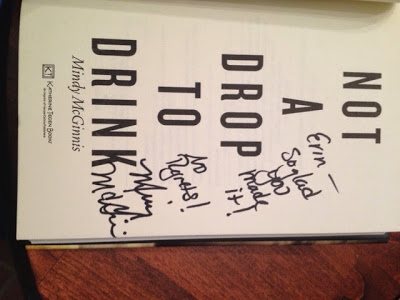 Haunting Mr. Darcy (she signed the cover and the inside).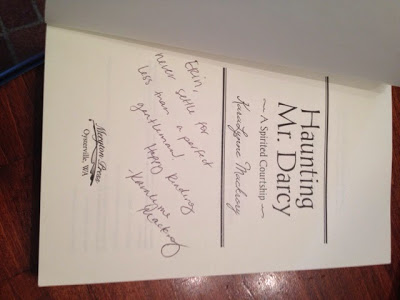 So that was the 4th Annual Ohio Author Book Fair, and it was a fantastic way to spend the day. I hope they continue this awesome event and that more people are able to go next year.
Keep Reading!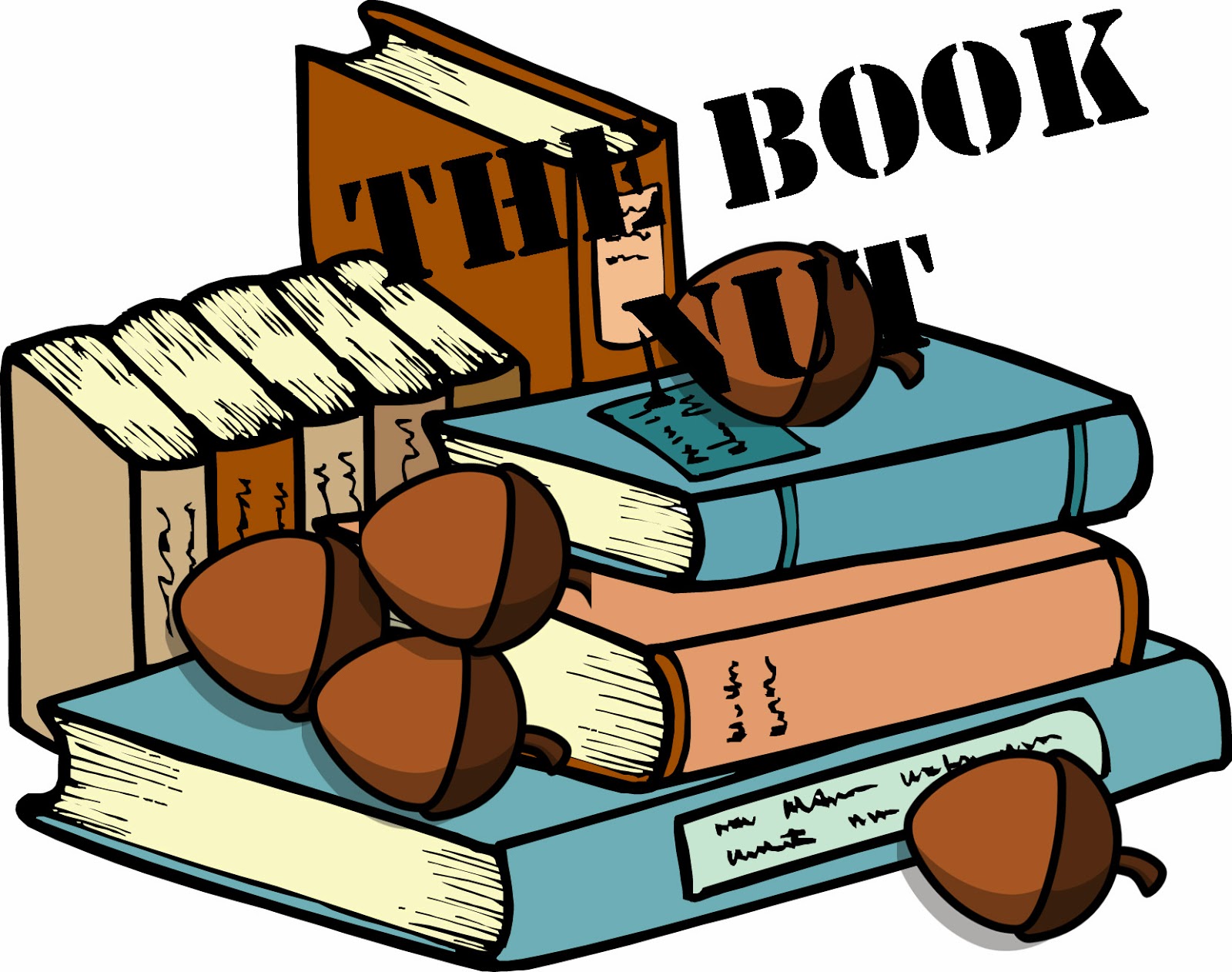 Related Posts