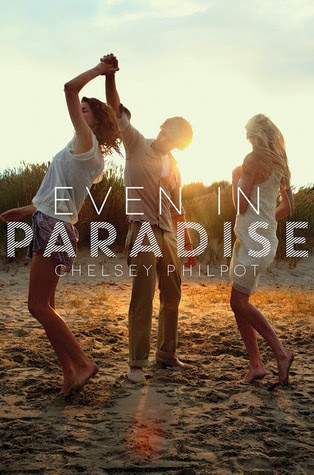 Even in Paradise by Chelsey Philpot


Release Date: October 14, 2014
Publisher: Harper
368 Pages
Received: From Publisher
Format: Paperback ARC


Rating: 

4 Nuts
Description: When Julia Buchanan enrolls at St. Anne's at the beginning of junior year, Charlotte Ryder already knows all about the former senator's daughter. Most people do… or think they do.
Charlotte certainly never expects she'll be Julia's friend. But almost immediately, she is drawn into the larger than-life-new girl's world—a world of midnight rendezvous, dazzling parties, palatial vacation homes, and fizzy champagne cocktails. And then Charlotte meets, and begins falling for, Julia's handsome older brother, Sebastian.
But behind her self-assured smiles and toasts to the future, Charlotte soon realizes that Julia is still suffering from a tragedy. A tragedy that the Buchanan family has kept hidden … until now.
Review: I know I keep saying I don't really like contemporary and then here I am reading another one. This book is different, this contemporary is a retelling of one of my favorite classics, Brideshead Revisited by Evelyn Waugh. That little factoid was actually something I didn't realize until I had already started the book. I was sitting there wondering why everything was sounding so familiar, particularly the names, and it hit me like a ton of bricks. Boy was I slow of the uptake.
So if you've read Brideshead Revisited then you'll be a bit confused at first. The characters are mushed around a bit so let me clarify a few things before I get any further. Charles is now a girl, Charlotte, called Charlie by the Buchcanans. Sebastian and Julia pretty much swap places completely, Sebastian's habits in the original all become Julia's, including liking girls. Sebastian in this retelling is now the love interest, which makes sense with the whole gender swap thing. Oh, and for anyone wondering, Brideshead or "Bridey" becomes Bradley, for obvious reasons.
So from here you'll realize that this book is not a complete and exact update of the original story, something I'm very grateful for. The book has its own presence and can stand alone as its own story. There are many differences between this and Brideshead that can set them apart. I think only people who have read the original or a review that mentions it could pick out that this book is a retelling. Even before I was in on that fact, I was loving this book. I heard it called "Looking For Alaska meets The Great Gatsby" and the book had my attention. Yes, there is a boarding school involved.
The characters here are much more lovable here, and I want to be Charlie so I can know them. Which, of course, is the point. But their lives are full of secrets, and the weight of them plagues the family.  If any of this sounds like your thing then you'll want to pick up this book. The characters are everything in this book. If they had not been as lovable or engaging then this book would have had a problem. I do have to say that I care more about Charlie's friendship with Julia than her relationship with Sebastian. Sorry Sebastian, your sister is more interesting than you!
I am a little bit disappointed with the last few pages, which is why this book didn't make a full four and a half or 5 nuts. There are maybe 3 pages at the very end that I felt didn't need to be there but others will probably like it. Just not me. Despite that it's still absolutely worth your time.
What do you think of Even in Paradise? Share your thoughts in the comments!
Keep Reading!
Related Posts