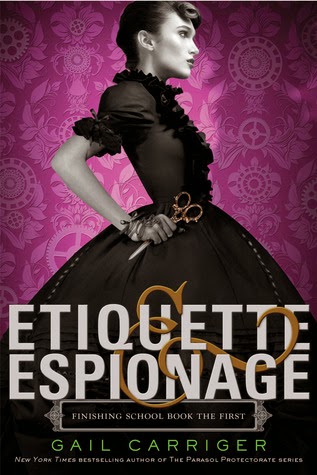 Etiquette and Espionage (Finishing School #1) by Gail Carriger


Release Date: February 5, 2013
Publisher: Little, Brown Books for Young Readers
307 Pages
Received: Netgalley after release to promote book 3
Format: eBook


Rating: 

3.5 Nuts
Description: Fourteen-year-old Sophronia is the bane of her mother's existence. Sophronia is more interested in dismantling clocks and climbing trees than proper etiquette at tea–and god forbid anyone see her atrocious curtsy. Mrs. Temminnick is desperate for her daughter to become a proper lady. She enrolls Sophronia in Mademoiselle Geraldine's Finishing Academy for Young Ladies of Quality.
But little do Sophronia or her mother know that this is a school where ingenious young girls learn to finish, all right–but it's a different kind of finishing. Mademoiselle Geraldine's certainly trains young ladies in the finer arts of dance, dress, and etiquette, but also in the other kinds of finishing: the fine arts of death, diversion, deceit, espionage, and the modern weaponries. Sophronia and her friends are going to have a rousing first year at school.
Review: Going into this book I was thinking. "oh, another steampunk from Gail Carriger". For those who don't know, Carriger has a series of adult books set in a paranormal steampunk world. What I was not aware of was that this YA series was set in the SAME paranormal steampunk world. Set about 20 years before, The Finishing School series is a YA take on a world already established in an adult series. If you've read Parasol Protectorate then you may recognize some names that make appearances here and there.
Normally I'm not really into steampunk. Often, the steampunks I've picked up in the past have focused so firmly on the tech and such that it took away from the story. Like the Parasol Protectorate, E&E does the opposite. It takes a lot of the distracting bits of tech and sort of melts them into the world, so instead of standing out it becomes more natural. This really helped me enjoy the book a lot more than I normally would have. Carriger has a way with this genre that makes it seem much more effortless than other authors who have tried the same.
I really like these characters, especially the two supernaturals that we meet. I mean, the werewolf wears a top hat! How can you not like him? The antagonist is particularly good at dancing on my last nerve, the kind of girl I'd have had a hard time keeping myself from punching in the face. A lot of the names Carriger uses often make me laugh, they can be a bit silly but I really enjoy that silliness. Just as long as it's not all of the time.
So why only 3.5 nuts? Because while this is a better steampunk than I'm used to I'm still pretty meh about the genre. I very much doubt that these books will ever be "must have" books for me. Would I like to have them? Sure. Do I NEED them? Not really. But I will certainly continue with the series, it's a lot of fun.
What did you think about Etiquette and Espionage? Share in the comments.
Keep Reading!
Related Posts