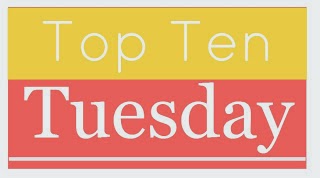 Top Ten Tuesday is hosted by the Broke and The Bookish.
The topic for the week is Top Ten Favorite Heroines From Books! Let's do this!
1. Calaena from the Throne of Glass series- I really liked her in the first two books but, you guys, that third book. Seriously. This girl is my hero.
2. Katsa from the Graceling series- Two word. Bad. Ass.
3. Aerin Firehair from Hero and the Crown- Sooo I'm actually named after this character (truly) so maybe I'm bias but this girl is so cool. Princess. Dragon killer. What more do you need?
4. Elisa from the Girl of Fire and Thorns trilogy- I think she grows more than any heroine I can think of. Her journey is fantastic.
5. Sybella from Dark Triumph- This is probably the darkest book in the His Fair Assassins trilogy but it's also my favorite. Srictly because Sybella is my favorite of the girls.
6. Mare from The Red Queen- Ok, so maybe she's a little dense at times but she's still managing to stay afloat in this crazy mixed up mess that is her new life.
7. Daenarys Stormborn from the A Song of Ice and Fire series- It really doesn't get better than the Mother of Dragons. All hail Queen Dany!
8. Ruby from The Darkest Minds- Um, yes please! More Ruby!
9. Holly from Artemis Fowl- She was one of the first female characters I really identified with.
10. Rose from Vampire Academy- A lot of people are torn here. Either you love her or hate her. I love her.
What are your picks? Share/link in the comments.
Related Posts