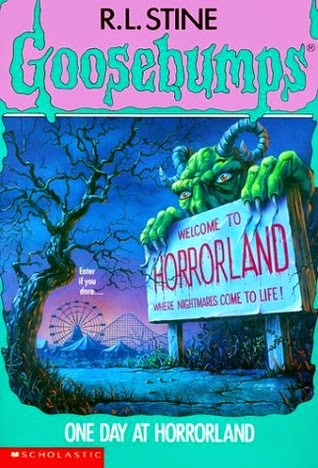 If you were a 90's kid you probably remember Goosebumps. You had the books, you watched the TV show, maybe you even had the video tapes. I remember being on the waiting list for every new book that would come out. My own collection spanned two whole shelves before I started to give them up. They were even the first books I raved about when they decided to change the covers, the origin of my need for matching spines.
Stine seemed to crank out his Goosebumps series faster than we could read them. By the end of the series, there were around 180 Goosebumps and Goosebumps spin off books. Of those, 62 were from the original series, and those are the ones I couldn't keep my hands off of.
Did you have favorites in the series? I did. The Haunted School, The Headless Ghost, Cuckoo Clock of Doom, Night in Terror Tower, Attack of the Mutant, One Day at Horrorland, The Haunted Mask, and Curse of the Mummy's Tomb. I still own copies of these, I just couldn't bare to part with them. What I liked about the series, and these books in particular, was how original each one was. I never got the books confused. When we talk about them at the lunch table I always knew which one we were talking about. It's amazing how Stine was able to create 62 individual stories.
By the time I hit the age of 10 I had moved on to Stine's more graphic stories. I didn't really get into most of the spin off books, I just sort of jumped right into Fear Street. I did, however, keep watching the show when I could. We didn't have cable but I got the VHS tapes out of the library. I recently went back to watch a few episodes (they're on youtube) and I felt like I was instantly transported back into my childhood.
Was I really scared back then? Well, not really. But definitely a little creeped out. Maybe a little paranoid at night. I have always had an over active imagination. Now they're just sort of cute.
Did you read Goosebumps? Have a favorite? Share in the comments! Check out the OAAA giveaway to win some books.
Keep Reading!
Related Posts