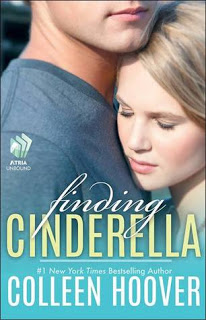 Finding Cinderella by Colleen Hoover


Release Date: October 14, 2013
Publisher: Atria Books
130 Pages
Received: Library book sale
Format: Paperback


Rating: 

3.5 Nuts
Description: This novella is a companion novel to the Hopeless series, but can be read as a standalone. 
A chance encounter in the dark leads eighteen-year-old Daniel and the girl who stumbles across him to profess their love for each other. But this love comes with conditions: they agree it will only last one hour and it will only be make-believe.
When their hour is up and the girl rushes off like Cinderella, Daniel tries to convince himself that what happened between them only seemed perfect because they were pretending it was perfect. Moments like that with girls like her don't happen outside of fairytales.
One year and one bad relationship later, his disbelief in insta-love is stripped away the day he meets Six: a girl with a strange name and an even stranger personality. Daniel soon realizes the way he pretended to feel about Cinderella and the way he really feels about Six may not be so different after all. Especially when the two loves of his life end up being one in the same.
Unfortunately for Daniel, finding Cinderella doesn't guarantee their happily ever after…it only further threatens it
Review: Uh I didn't know this was part of a series until I'd started. Luckily it makes sense as a standalone. I've never read Colleen Hoover, I just didn't think I'd like it. I don't really do romance outside of fantasy or paranormal or something else. There usually has to be something else to interest me. I get bored with kissy smoochy boy drama. But these characters are just so likeable! Daniel is the biggest goof, someone I would totally be into. If he were a bit nerdier he'd be just like my fiance. Six is quirky but doesn't force it on you. She feel real, not like a character who is only quirky to have a character trait. I'd definitely be good friends with someone like her, actually in some ways I'm a lot like her.
While you don't get a huge amount of character development (dude, it's only 130 pages) a lot happens in these pages. It's fast paced, it's interesting, and I was actually rooting for the couple. It made me actually want to go pick up Hopeless (then I realized I already had it, I'd bought it at the same sale). If all of Hoover's books have such good characters I may actually have to change my stance on romance books!
What do you think of the book or Colleen's books in general? Should I start Hopeless? Should I read something else? Share your thoughts in the comments
Keep Reading!
Related Posts