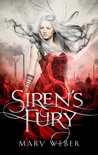 Siren's Fury (Storm Siren, #2)
by
Mary Weber
Published by
Thomas Nelson / HarperCollins
on June 2nd 2015
Pages:
352
Goodreads
"I thrust my hand toward the sky as my voice begs the Elemental inside me to waken and rise. But it's no use. The curse I've spent my entire life abhorring—the thing I trained so hard to control—no longer exists."
Nym has saved Faelen only to discover that Draewulf stole everything she valued. Now he's destroyed her Elemental storm-summoning ability as well.
When Nym sneaks off with a host of delegates to Bron, Lord Myles offers her the chance for a new kind of power and the whispered hope that it may do more than simply defeat the monster she loathes. But the secrets the Bron people have kept concealed, along with the horrors Draewulf has developed, may require more than simply harnessing a darker ability.
They may require who she is.
Set against the stark metallic backdrop of the Bron kingdom, Nym is faced with the chance to change the future.
Or was that Draewulf's plan for her all along?

There's nothing better to me than a high fantasy. Very rarely do they ever fall short in my eyes, and I assume that's because a publisher can usually pick out the good from the bad pretty easily when deciding whether to publish. So what makes a good high fantasy?
World-building: a book in this genre is nothing without its world building, and this one certainly has it. Has it in spades. The world building here is gorgeous and immersive, painting sweeping images in your mind seemingly effortlessly.
Characters: Nym is fabulous, as always. I think what I like best about this one though is the side characters. While I love Nym and she's who I'm here to see, I'm a big fan of good side characters whenever possible.
A good cover: of this isn't really necessary, but it helps! And boy does this series have amazing covers! I could look at them all day!
A hook: Something to keep my interest and keep me reading long past just the pretty world and good characters.
This book has all of these things and more!
I'm a big fan of the magic system in this series, something that sometimes gets overlooked. A magic system can make or break a book for me. Well, maybe not break. But an impressive system of checks and balances in magic will catch my attention faster than anything else. What? Would you pass up the opportunity to do something cool with some awesome powers?
All in all, I'm a bit in love, and stupidly excited for Siren's song. I mean really, look at this cover!
And it's in my favorite color!
What did you thing of Siren's Fury? Are you excited for Siren's Song? Comment and let's discuss!
From my shelf to yours!
Erin
Related Posts