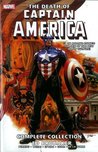 Captain America: The Death of Captain America

by Ed Brubaker, Mike Perkins, Steve Epting, Jackson Butch Guice, Roberto de la Torre, Lee Weeks
Published by Marvel on February 19th 2013
Pages: 576
Goodreads

Steve Rogers is dead! Long live Captain America! He was a hero to millions, an inspiration to America's armed services and the representative of his nation's greatest ideals. He lived for his country - and now, he has given his last final measure for the nation he loved. In the aftermath of the superhuman Civil War, Captain America was shot down in cold blood. In the aftermath of his death, Cap's longtime partner the Falcon makes revenge his first order of business. Sharon Carter finds herself spiraling out of control, a captive of the Red Skull's minions. And Bucky Barnes, a.k.a. the Winter Soldier, must reconcile his own sordid past with the calling to become...the new Captain America! COLLECTING: Captain America (2005) 22-42, Winter Soldier : Winter Kills
Mild spoilers ahead…
One of the most popular characters in the Marvel Universe, Captain America has been around since war times. No longer war propaganda, the Captain is now an enemy of the United States and branded traitor. Before he can go to trial, Captain America is murdered.
This is the story of The Death of Captain America.
The follow up to Civil War, Ed Brubaker's The Death of Captain America is often considered to be one of the definitive storylines in modern Captain America canon. To me, anything in Ed Brubaker's Captain America Volume 5 run is pure gold and this story arc is the best of it.
The Death of Captain America comes in 3 parts: The Death of the Dream, The Burden of Dreams, and The Man Who Bought America. It spans Captain America issues 22-42, a pretty impressive collection, and features man of the Captain's most prominent villain characters.
I adore this collection and I own the whole set in its individual issues. For fans new to the story arc I would suggest the complete collection graphic novel that also includes and issue of Winter Soldier to round everything out.
Ed Brubaker is one of the best writer's Marvel could get for this and this is coming from someone who doesn't normally like Captain America. I always thought he was too much of a boy scout. Ed Brubaker changed my mind.
If you're looking to get into something in the Captain America set, this is what I would recommend. Well, this and The Winter Soldier collection. They're a good, modern take on the character.
From my shelf to yours,
Erin
Related Posts