The moment I saw that there were going to be new AN EMBER IN THE ASHES covers I was nervous. And a little pissed. Like, I hadn't even seen them yet but let me tell you the one thing that will piss a bookworm off to no end is a mid series cover change. So I took a breath and went to check them out.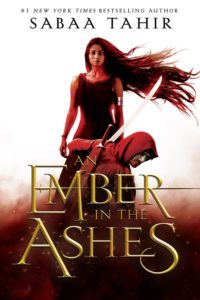 Ok so here's the thing, I'm extremely conflicted about these cover. On one hand I'm very pleased to see a POC cover model. I really like Laia's model, especially on The A TORCH AGAINST THE NIGHT cover. She looks great. However I have several BIG issues with these covers.
One: Holy shit these covers are SO different from the last one. I loved the original covers and I thought they were good for the series and to make them stand out from other series. This one, well it's reminiscent of something else….

Yeah, that one. They scream TOG and I hate that. Let TOG be TOG and go be something unto yourself.
Heck, they look like 3 or 4 adult fantasies I've seen just off the top of my head. I'm seeing shades of Mark Lawrence and a few others. But I want this series to shine on its own, not be like all these other series.

Two: The contrast. Those bold colors against the white background. Owch, I hate it. The more I stare at them, the more it stands out and the more I kind of hate it. It's harsh on the eye, and though it stands out it's not in a good way.
Three: This is the obligatory one, they aren't going to match. My shelves are my babies and I hate when they look all mismatched. Can we get matching spines maybe?
So in all I'd have to say I'm personally not a fan of these covers. The POC models are the biggest positive, and it's a GREAT positive, but it's not enough to make me say they're good. They're fine, but I've seen the art concept before, and done so much better. The garish color contrasts in particular just get me. I can't get behind them.
What are your thoughts on these new covers? Share your thoughts in the comments.
From my shelf to yours,
Erin
Related Posts