So today John Green's newest novel TURTLES ALL THE WAY DOWN got a cover. I first saw this on Good Morning America and I had a couple of feels, but let's take a look at it first.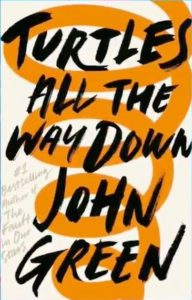 Immediately my first impression was that this looks like a cover for an adult book. Now this isn't a criticism or anything, as simple covers go its pretty cool. But I felt like I had seen a couple of similar covers before this in adult genres.
And then I realized what I had been thinking of.

It looks like this cover of THE MARRIAGE PLOT by Jeffrey Eugenides, an author I had mostly ignored until Green himself mentioned him in his vlogs.
And the more I think about it, the more I don't see anything YA about this cover. So I wondered to myself was this perhaps intentional? The YA community is full of adults but I considered that maybe the publisher thought to appeal to the rest of the adult reading community with this cover. Could this be the case?
As I kept thinking I also remembered this cover…

A little less close but I get a similar vibe from it regardless.
On the positive I get where this cover is coming from (though not gonna lie I kinda wanted a pile of turtles on this one). The spiral is representative of an obsessive thought spiral that people like the MC who have OCD (and like John Green himself) sometimes experience. Cool, I get it. The color I'm not so fond of but I can deal with it. Orange is kind of harsh but again, it get it.
So, thoughts? Like? Dislike? For me I guess it's ok but I wanted something a little more impressive, something that would match the gorgeousness of THE FAULT IN OUR STARS. But it's not bad and I can't wait to give this one a read.
How does this cover hit you? Love it? Hate it? Share your own opinions in the comments.
From my shelf to yours,
Erin
Related Posts