So by now you've all heard me (Jennzah) rave about author Amina Akhtar's AMAZING debut, #Fashionvictim. (see my review here).  Amina was kind enough to grant me an interview and answer some of the burning questions that I had about the book, her writing process, and EVERYTHING. Check it out below, and do make sure you pick up your copy of #Fashionvictim wherever awesome books are sold (links below, darling!)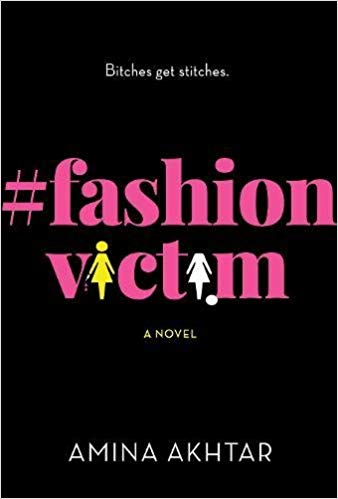 Hardcover: 314 pages
Publisher: Crooked Lane Books
Buy Here :  Amazon  BN  Indiebound 
Fashion editor Anya St. Clair is on the verge of greatness. Her wardrobe is to die for. Her social media is killer. And her career path is littered with the bodies of anyone who got in her way. She's worked hard to get where she is, but she doesn't have everything.
Not like Sarah Taft. Anya's obsession sits one desk away. Beautiful, stylish, and rich, she was born to be a fashion world icon. From her beach-wave blonde hair to her on-trend nail art, she's a walking editorial spread. And Anya wants to be her friend. Her best friend. Her only friend.
But when Sarah becomes her top competition for a promotion, Anya's plan to win her friendship goes into overdrive. In order to beat Sarah…she'll have to become her. Friendly competition may turn fatal, but as they say in fashion: One day you're in, and the next day you're dead.
---
Explain a little about how #Fashionvictim turned from an idea into a full fledged novel?
I had this idea about a fashion girl doing these killings. And no one thinks it's her because she's a fashion girl. But I never did anything with it. I didn't know how to approach it. Until one day it all started to click–like, six years later. And voila, Anya was born.
What sort of research did you do to create the character of Anya? (and how many times did you have to clear your browser history?)
Am I worried that the FBI has a file on my searches? Of course! My sister is a phd in pharmacology so I'd ask her about botox and other drugs. She was very helpful.
Having worked in the fashion industry, can you tell us if any of your characters are based on a composite or a person you worked with?
There's not one character based on anyone, except perhaps me. I was definitely bitchy and gross back then. That was one of the things I hated about being in fashion–I was turning into someone I didn't like. But enough therapy here. I used events, things that happened. And I used names I got from social media so some characters are named after friends. But the people themselves are not based on real ones. Thankfully!
Are there any plans for a follow up to #Fashionvictim?
If people want one I wouldn't rule it out.
Tell us a little about your writing process! What sort of music do you listen to, where do you go to inspire you?
I'm a boring writer. I like quiet. I sit on my bed with my dog next to me. And I write until I hit a couple thousand words. Sometimes I use an outline, often the words flow and scenes happen without me realizing.
You can only choose to wear one designer for the rest of your life — which one do you choose and why?
For clothes, Christian Siriano. The man can dress a girl with boobs. For accessories, Valentino, without question.
---
Amina Akhtar is a former fashion writer and editor. She's worked at Vogue, Elle, Style, NYTimes.com, and NYMag.com, where she launched The Cut blog. She's written for numerous publications, including Yahoo Style, Fashionista, xoJane, Refinery29, Billboard, and for brands like Bergdorf Goodman and H&M's 10 Years of Style tome. After toiling in the fashion ranks for over fifteen years, she now writes full time in the desert mountains, where she's detoxing from her once glam life. #FashionVictim is Amina's first novel.
Related Posts