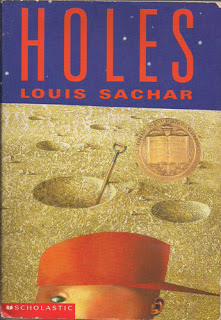 Louis Sachar's books were a huge part of my childhood, and I don't think I'm the only one. As a second and third grader I adored the 3 Wayside School books: Wayside School is Falling Down, Sideways Stories from Wayside School, and Wayside School Gets a Little Stranger. Then I discovered Holes and its companions. Besides the book itself, Sachar had released Stanley Yelnats' Survival Guide to Camp Green Lake and much later, Small Steps about popular character Armpit.
So why did people love Holes enough for two more related books to be published? Why was it so popular that a movie was made? I think the answer is pretty simple, at least for me. Sachar's books all have one thing in common, they have fabulously interesting kid characters. You get pulled in by their personalities, their quirks. They're usually witty and smart but otherwise pretty normal, regular kids, Kids the readers can identify with or imagine as one of their friends.
Pretty much all of the kids at Camp Green Lake are likable, if quite a bit weirder than Stanley. They're very quirky, fan characters to read about, and even more fun in Stanley's survival guide. You really get the dirt on all of them. In Holes itself, it's very easy to get pulled into the adventure of it all. Old West criminals, treasure, a doomed love story, the travel and the search. Once it gets a hold of your mind it won't let go until the story is over.
This was one of those books that made me fall in love with a darn good villain. The Warden is one of those characters that you love to hate, and I've found that ever since my favorite books are the ones with those kind of villains.
I read this book just when I started to read mass amounts of books a year as a kid. I'd move from one to the next so quickly I'd hardly remember most of them. The ones that did stick are the ones you see in these throwback posts. The ones that stick had an impact on the reader I am today. I still remember large sections of this book, my friends and I quoted it at each other so often. Especially once the film adaptation came out.
He cries to the moon, if only, if only. 
Do you remember reading Holes? What are your memories of it? Share in the comments.
What are your favorite throwbacks?
Keep Reading!
Related Posts