You get a tag, and you get a tag, and I get a tag! EVERBODY GET'S A TAG! That's right, it's book tag time! This one was created by Beth at Books Nest. I have so many books that I should have read by now. Honestly, I think we all do.
Awwwway we go!
A BOOK THAT A CERTAIN FRIEND IS ALWAYS TELLING YOU TO READ

FURYBORN by Claire Legrand. I'm getting to it I promise!  I just have a REALLLY REALLY REALLY REALLY long TBR.
A BOOK THAT'S BEEN ON YOUR TBR FOREVER AND YET YOU STILL HAVEN'T PICKED IT UP


Same deal, I'm getting to it! I'm so sorry Leigh Bardugo! I will read KING OF SCARS soon!
A BOOK IN A SERIES YOU'VE STARTED BUT HAVEN'T GOTTEN AROUND TO FINISHING YET

I've read the first book, ASH PRINCESS, but I still need to read books 2 and 3. They're on my bookshelf, staring at me. Oy vay.
A CLASSIC YOU'VE ALWAYS LIKED THE SOUND OF BUT NEVER ACTUALLY READ
I've read most of the classics that interested me. They were the easiest thing to get my hands on during summer reading.
A POPULAR BOOK THAT IT SEEMS EVERYONE BUT YOU HAS READ

Technically I've read part of it and I couldn't get through it. I DNFed it pretty early on.
A BOOK THAT INSPIRED A FILM/TV ADAPTATION THAT YOU REALLY LOVE, BUT YOU JUST HAVEN'T READ IT YET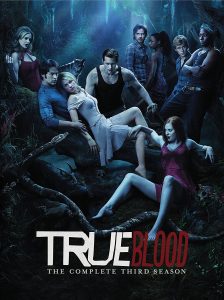 I have read the first one but no farther. I own the entire series, I just haven't gotten around to reading them. TRUEBLOOD is so loose an adaptation that it hardly seems to matter that I've watched the whole thing before reading the Sookie Stackhouse Mysteries.
A BOOK YOU SEE ALL OVER INSTAGRAM BUT HAVEN'T PICKED UP YET

Man I am so far behind on the Libba Bray train. Someday I'll get to these.
Have a large TBR? Then consider yourself tagged!
From my shelf to yours,
Erin
Related Posts