Life's a beach my friends! This summer-y book tag was created by Lefty, the Left-Handed Book Lover. It's hot, it's summer, and I'm feeling the beach.

THE SAND
A BOOK THAT STUCK WITH YOU LONG AFTER YOU FINISHED READING

This book had everything I loved in a fantasy novel but with a nice twist. I really need to get on with reading the damn sequel.
THE SUN
A BOOK THAT BURNED YOU

I had such high hopes for this book and it really put me in the dumps when it failed spectacularly. Shame too, there was so much potential.
THE WAVES
A BOOK THAT CALMS YOU DOWN AFTER A LONG DAY
Any of the old classic Agatha Christie mysteries. I'm partial to a Miss Marple but I'll take a Poirot in a pinch. Still haven't made my mind up about Terrance and Tuppence yet.
THE BATHING SUIT
A BOOK WITH A PRETTY, SUMMER-Y COVER
Doesn't get more summer-y than this beauty. The beach, the color of that water. Pure heaven.
THE BIRDS
A BOOK THAT IS EVERYWHERE

She's probably better known for The Selection series but every summer I see this one popping back out.
THE COMPANY
A BOOK WITH WONDERFUL CHARACTERS

This could really apply to any Gail Carriger series but right now for summer I'm partial to the Finishing School Series.
THE ICE-COLD DRINKS
A BOOK YOU ABSOLUTELY GULPED DOWN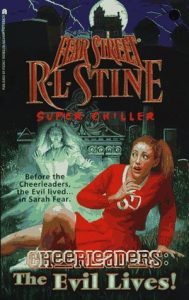 Mqan, I love horror in the summer time. I have a distinct memory of picking up the entire Fear Street Cheerleaders Saga and gobbling them up in a couple of days sitting in my treehouse.
THE FUN MEMORIES
A BOOK YOU CAN'T WAIT TO RETURN TO

Can it please be January already? I need House of Sky and Breath!
I tag anyone who is in the mood for a beach vacation.
From my shelf to yours,
Erin
Related Posts