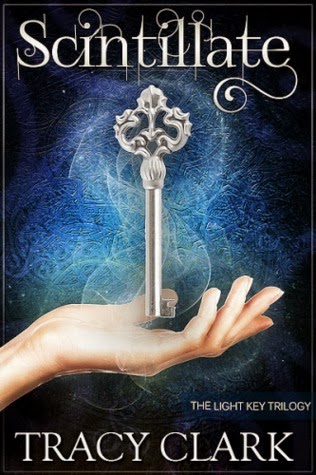 Scintillate (The Light Key Trilogy #1) by Tracy Clark


Release Date: February 4, 2014
Publisher: Entangled Teen
304 Pages
Received: NetGalley E-ARC
Format: E-Book


Rating: 
3.5 Stars
Description: A mighty flame follows a tiny spark.
Cora Sandoval's mother disappeared when she was five and they were living in Ireland. Since then, her dad has been more than overprotective, and Cora is beginning to chafe under his confines. But even more troubling is the colorful light she suddenly sees around people. Everyone, that is, except herself—instead, she glows a brilliant, sparkling silver.
As she realizes the danger associated with these strange auras, Cora is inexplicably drawn to Finn, a gorgeous Irish exchange student who makes her feel safe. Their attraction is instant, magnetic, and primal—but her father disapproves, and Finn's mother orders him home to Ireland upon hearing he's fallen in love. After a fight with her father, Cora flees to Ireland, both to follow Finn and to look for her missing mother.
There she meets another silver-haloed person and discovers the meaning of her newfound powers and their role in a conspiracy spanning centuries—one that could change mankind forever…and end her life.
Review: This is one of those books where you think you're going to feel one thing and end up feeling another. I thought I wasn't going to like this book at all, happily I was wrong. I very much enjoyed the world-building elements of this story. I loved the addition of all of the Irish elements within it; as someone with Irish blood who has always dreamed of seeing Ireland, I was able to identify with the main character's desires to go and experience it.
At first I was extremely annoyed with how our love interest, Finn, was acting towards Cora. He's like a man obsessed, like a lovesick puppy, and I hated it. However, I feel like that was adequately explained and I can let it pass. There is decent reasoning behind a lot of the things that would normally bother me in a story like this.
Once I got into the meat of this story I was really hard pressed to put it down. There is a lot of emotion going on by the end that really got to me and got me invested in the characters. To use fandom speak I had "all of the feels" once I finished and had to give myself time to process what just happened. I will be continuing on with the series and am excited to see what happens next.
Advanced praise for Scintillate: 
"A lush and atmospheric debut with a scorching romance and a metaphysical mystery. It had me hooked from the start."  -Suzanne Young, author of THE PROGRAM.
"Beautifully written. Keep your eye on author, Tracy Clark. She's going places!" -Ellen Hopkins, New York Times Bestselling Author of the CRANK trilogy.
Have you read Scintillate yet? Share your thoughts in the comments!
Stay tuned for a giveaway, get a head start by following my blog on bloglovin'.
Related Posts