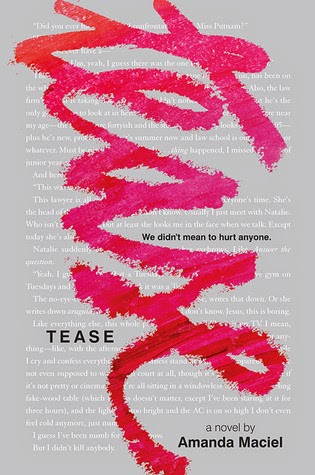 Tease by Amanda Maciel


Release Date: April 29, 2014
Publisher: Balzer + Bray
328 Pages
Received: From Publisher
Format: Paperback ARC


Rating: 
Description: 
From debut author Amanda Maciel comes a provocative and unforgettable novel, inspired by real-life incidents, about a teenage girl who faces criminal charges for bullying after a classmate commits suicide.
Emma Putnam is dead, and it's all Sara Wharton's fault. At least, that's what everyone seems to think. Sara, along with her best friend and three other classmates, has been criminally charged for the bullying and harassment that led to Emma's shocking suicide. Now Sara is the one who's ostracized, already guilty according to her peers, the community, and the media. In the summer before her senior year, in between meetings with lawyers and a court-recommended therapist, Sara is forced to reflect on the events that brought her to this moment—and ultimately consider her own role in an undeniable tragedy. And she'll have to find a way to move forward, even when it feels like her own life is over.
With its powerful narrative, unconventional point of view, and strong anti-bullying theme, this coming-of-age story offers smart, insightful, and nuanced views on high school society, toxic friendships, and family relationships.
Review: I thought this book was interesting because it was from the bully's point of view. But I honestly think it has to be said that I was completely annoyed by the girl up until the last section or so. I didn't hate her, not like her caddy, bitchy friend, but good lord the girl was annoying. If you have a problem with whiny narrators then you'll have a problem with this book.
That being said, I think the statement this book made was a good one. Showing the bully's side humanizes their feelings, even if what they've done is awful. The problem becomes that the statement is stronger than the book. The story wasn't strong enough to support such a huge, important topic. The characters weren't able to become fully fledged people under the weight of the topic at hand. All you can see is the statement, not the story.
So while I liked certain parts and I thought that concept was interesting, I don't think it made for a strong book. I didn't hate it but nor did I particularly think it was a good book.
Keep Reading!
The Book Nut
Related Posts