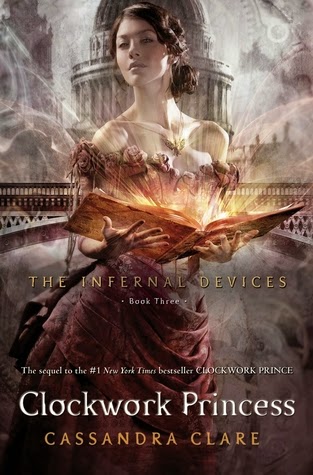 Clockwork Princess (The Infernal Devices #3) by Cassandra Clare


Release Date: March 13, 3013
Publisher: Margaret K. McElderry Books
570 Pages
Received: Borrowed from library
Format: Hardcover


Rating: 
Description: Danger and betrayal, secrets and enchantment in the breathtaking conclusion to the Infernal Devices trilogy. 
Tessa Gray should be happy – aren't all brides happy?
Yet as she prepares for her wedding, a net of shadows begins to tighten around the Shadowhunters of the London Institute.
A new demon appears, one linked by blood and secrecy to Mortmain, the man who plans to use his army of pitiless automatons, the Infernal Devices, to destroy the Shadowhunters. Mortmain needs only one last item to complete his plan. He needs Tessa. And Jem and Will, the boys who lay equal claim to Tessa's heart, will do anything to save her.
Review: *May contain spoilers, read with caution* While I am usually against spoilers this book is very difficult to review without talking about certain parts of the ending. Bare with me, folks.
Why did I wait so long to read this book? I really wish I hadn't. It has been since the fall that I'd read the first two books and I had to remind myself what was going on. And then I remembered…oh god.
Ok, I told myself, this can't end too badly right? I mean she can't….yeah she totally can. But let's start from the beginning.
First let's talk about how much I care about wedding clothes, which is not at all. Did we really need that? Fighting (or really not that much fighting) in wedding clothes? Ok that's better I guess. So there's more going on with the Lightwood brothers, somehow I knew they were going to be relatively important, and I'm glad to see I was right. Even at the end of this series I'm not sure how I really feel about Gabriel, he's all over the place, morally. What is it with this family and their moral flip flopping? Seriously, it's giving me whiplash.
So we are introduced to Will's sister, hello Will's sister. I really have very little to say about the girl, honestly. I don't really know if the plot would lose very much if she were to disappear. The contributions she makes are small to say the least, but she's not completely useless so I don't mind her presence in the story.
Then there's Consul Wayland. Oh my god did I get mad at this guy. He had me screaming at my book in a couple of different places. This guy is a skeeze-ball, plain and simple. You don't want to know the things I threatened to do to him under my breath as I was reading (I'm an emotional reader, ok?).
Which leads us to Mortmain. He's pretty organized for a complete sociopathic monster. His plan required very specific information and he had a plan (and back-up plan, and back-up to his back-up) for how to get it. And he would have gotten away with it if it weren't for those meddlesome kids, and their (SPOILER!) too! 😉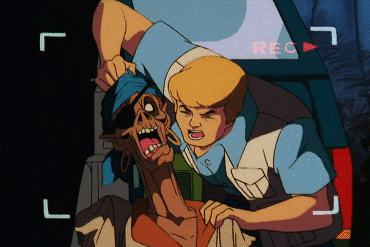 But I think I've put this off for long enough, let's talk about our triangle of lovers. I actually really liked how it turned out. Did I bawl? You bet I did. More than once. I was emotional wreck by the end of the book, which is happening more and more lately. Though perhaps that has more to do with the quality of books I've been reading rather than my own emotional state. Yes, I still love Jem. Yes, I still like him more than Will. I don't think that would ever change.
All in all I loved the book, and the trilogy as a whole. It's a much better realized and more solid story than the Mortal Instruments. I almost wish there was more to this series, but I think it was best that she end it rather than drag it out (which is a complaint I've heard about the last three Mortal Instruments books).
What did you think of Clockwork Princess? Share your thoughts in the comments below!
Keep Reading!
Related Posts