Started over at Laura @ Laura's Book Review
The rules:
You must answer all of these questions truthfully and once you've completed this tag, tag 5 other book bloggers to answer the questions next.
What are your top three book pet hates?
Cover changes, broken spines, and size differences.


Describe your perfect reading spot
A comfy chair or couch with a cup of tea.


Tell us three book confessions
I'm obsessive about my library organization, I love the smell of old books, I have more unread than read books on my shelves.


When was the last time you cried at a book?
Probably TFIOS, I'm not an easy crier.


How many books are on your bedside table
Two


What is your favorite snack whist you're reading
Tea and toast.


Name three books you'd recommend to everyone
Shadow and Bone by Leigh Bardugo, Grave Mercy by Robin LaFevers, and Mortal Danger by Ann Aguirre.


Show us a picture of your favorite shelf on your bookcase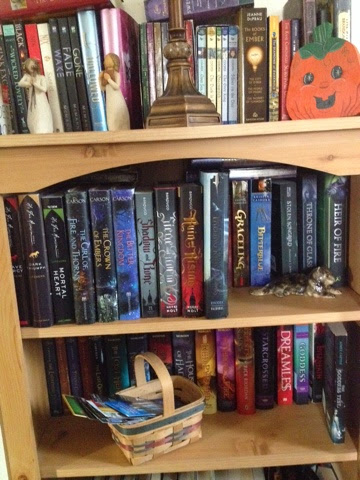 My high fantasy shelf is my favorite.




Write how much books mean to you in 3 words
They're my favorite.


What's your biggest reading secret?
I don't think I have one? Um, well I haven't read Perks of Being a Wallflower I guess? Does that count?
I tag:
Laura @ Bibliophile at Best
Mia at M & Em Read
Vangie @ Painful Reads
@ La La in the Library
Amanda @ GunInActOne
Related Posts