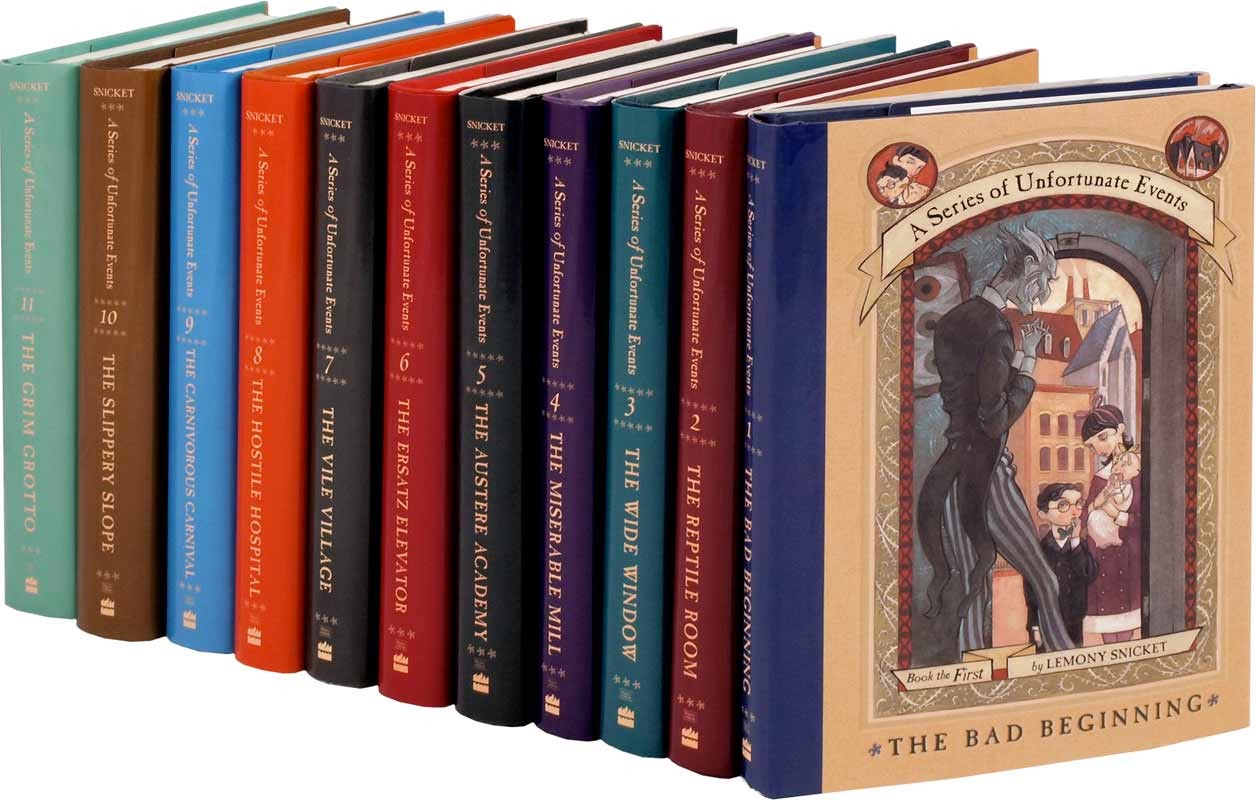 When I was in elementary and middle school there were a few series that EVERYONE was reading. Well, anyone that read anyway. You had Harry Potter, Goosebumps, Artemis Fowl, and Series of Unfortunate Events. Those were the big four, if you threw a rock into the hall it would probably hit someone who had read one if not several of these series. At my schools the big two where Harry Potter and the depressingly lovely Series of Unfortunate Events.
Lemony Snicket's books were a huge favorite. Originally published in 1999 the series followed three orphans: Violet, Klaus, and Sunny Baudelaire after their parents died in a fire. Snicket (real name Daniel Handler) took the depressing adventures of these kids and still made it accessible. He made you care about the kids, root for them.
The kids themselves were clever and immediately likable. They each had a particular strength that helped them survive. There were many points in the series where you could just forget that these weren't real people, and that they were just kids! The Baudelaires aren't JUST anything.
The thing that really drew me to the series was the writing style. It was, and is, different from EVERY other style I've ever read. Snicket, as he's telling the story, goes off on all sorts of tangents. The weird thing is that they don't distract from the story, they add to it. Almost always these tangents have important information to the rest of the story, even if it isn't apparent right away.
The other element that sets these books apart is the vocabulary. Snicket isn't afraid to use big complicated words in these stories. He also isn't afraid to carefully work in their definitions so kids don't realize they're learning new words as they read. I got excited every time there was a new word. The way he described them was always witty and entertaining, so fast that you never knew he was teaching you something. And I loved it.
As the years went by I continued to collect and devour these books one by one. I bought each one as they came out, making sure my set was complete and in matching hardcovers. I followed the series into high school, never thinking for a moment that the books might be "too young" for me. The way they were written any person could read them without feeling like they were "just kids books". My mom even enjoyed them.
This is definitely a series that holds up, one I still own, and one that I want to give another read someday.
Did you read this series? What are your memories of it? Share in the comments.
Keep Reading!
Related Posts