Kissing Ted Callahan (and other guys) by Amy Spalding
Publisher: Poppy
Number of pages: 320
Release date: April 7th, 2015
Source: Library
Format: Hardcover
Rating:


3 nuts!
Synopsis:
Nick and Norah's Infinite Playlist meets Easy A in this hilariously realistic story of sneaking out, making out, and playing in a band.
After catching their bandmates in a compromising position, sixteen-year-old Los Angelenos Riley and Reid become painfully aware of the romance missing from their own lives. And so a pact is formed: they'll both try to make something happen with their respective crushes and document the experiences in a shared notebook.
While Reid struggles with the moral dilemma of adopting a dog to win over someone's heart, Riley tries to make progress with Ted Callahan, who she's been obsessed with forever-His floppy hair! His undeniable intelligence! But suddenly cute guys are popping up everywhere. How did she never notice them before?! With their love lives going from 0 to 60 in the blink of an eye, Riley and Reid realize the results of their pact may be more than they bargained for.
My Review:
I picked up Kissing Ted Callahan at the library almost solely because of the blurb by Stephanie Perkins on the front. I had heard a few things about it prior to that but I was sold after I read it, "I laughed so hard I cried. I have a major crush on Ted Callahan!" Stephanie writes amazing contemporary romances and Anna and the French Kiss is one of my favorite books, so I was hoping for great things from Kissing Ted Callahan.
Riley is 16 and a drummer in her band, The Gold Diggers, along with her best friend Reid and her ex-best friend, Lucy. See, they're ex-best friends because Riley and Reid walked in on Lucy with their other bandmate Nathan. And now Riley doesn't think that Lucy has time for her juvenile not-doing-it boy problems. So Riley and Reid decide that the only solution is to try and find a romantic relationship, or fall in love, or in Riley's case at least 'do it'. They decide to take detailed notes on on their steps to reach this goal in the Passenger Manifest so they can help each other decode the mysteries of the opposite sex.
This was a quick read for me. The writing was a little juvenile, which had its pro's and con's. I really felt like I was in the mind of a teenager, which was great. There was also a lot of witty dialogue and inner dialogue that moved the story along quickly. I actually found myself laughing out loud at several points in the story. The conflict for me came in the contrast between the juvenile style of writing and the focus that Riley had on finding someone to 'do it' with. I appreciated how sex positive the book was in general, and I really enjoyed Riley's confidence in herself and her choices. I was just a little thrown by the contrast between the younger writing style and the more adult topics that were being discussed. Again, this might just be me, but it held me back from fully enjoying the story.
The plot of the story was little predictable. I enjoyed the different characters but wasn't ever surprised by their actions. The situation that Riley finds herself in is one that I could definitely see a high school student getting into (minus the multiple band concerts a week and staying out ridiculously late all the time – there is no way that would have ever been allowed at my house!) and the music element of the story was really entertaining. I loved that Riley was a talented drummer, it added a really interesting element to her character. I have to say though, all of the band references were waaaaayyy over my head.
I also really enjoyed the focus of the book on female friendships. Too often we see girls pitted against each other to compete for boys, or being completely catty to each other. It's so easy at that age, when you first start dating, to put less emphasis on your girl friends and I loved how Riley comes to see that even though she's dating now, her friends are still important. It was a really good message.
Overall, this was an enjoyable quick read. It's a solid 3 nuts for me, although I was hoping for more based on the Stephanie Perkins endorsement! It does leave you with some good messages and it was written in a fun format. I would definitely pick something else up by this author in the future.
About the author: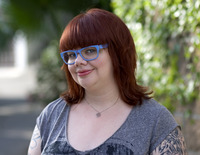 Amy Spalding grew up in St. Louis, but now lives in the better weather of Los Angeles. She received a B.A. in Advertising & Marketing Communications from Webster University, and currently works as the Senior Manager of the Digital Media team for an independent film advertising agency. Amy studied longform improv at the Upright Citizens Brigade Theatre, and can be seen performing around L.A.
Related Posts